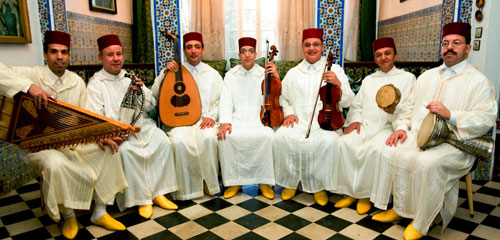 Orchestra of Tetouan (Tetuan Orchestra) will perform Sunday, September 20 at 8pm at International House in Chicago. Orchestra of Tetouan was founded in Tetuan, Morocco in 1944 by the city's leading musicians, including Larbi al-Gazi, Ahmed Berradi, etc.
In 1956, when Morocco became independent, Larbi Temsamani reorganized the orchestra to include Abdessadek Cheqara and other emerging musicians. Temsamani used Daqqa and Ihkam, the new directoral method at that time. Accordingly, the Orchestra became very famous in the 1960's and 1970's under the direction of Temsamani and with Cheqara presenting his artistry of viola and the popular Chaabi songs. The orchestra was shown nationwide on TV as well as in national and international music festivals.
After Temsamani passed away, Mr. Mehdi Chaachooa was appointed the administrator of the orchestra. Thus, the third generation of the Orchestra was born, consisting of professors at the Conservatory. Mr. Chaachooa has successfully demonstrated that the Tetuan School of Al-Ala appeals to national and international audiences.
Currently, the Orchestra consists of professors who studied or worked with Temsamani and Cheqara in the Conservatory or privately as well as Conservatory-trained young musicians. In the past few years, the Orchestra of Tetouan has performed in the prestigious Institut du Monde Arabe (IMA) in Paris, France, and has represented Morocco to perform Arab-Andalusian Music in many international music concerts in Europe.
International House
1414 East 59th Street
8pm
Tickets: $10,
$5 students with student ID showing current enrollment
Author:
World Music Central News Department
World music news from the editors at World Music Central