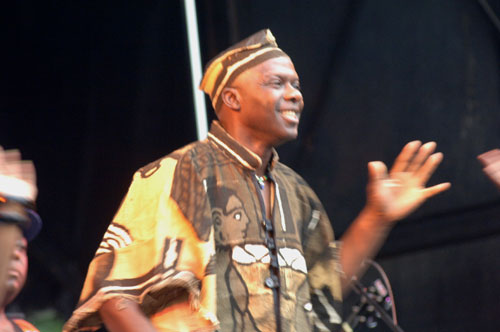 WOm@ TT will present Sierra Leone-born King Masco with his band and dancers. the concert will take place Saturday 22 August at The Tabernacle, Powis Square, London.
King Masco was born in Freetown Sierra Leone. Most of his songs are sung in Krio" broken English" and his band features some of the finest musicians and dancers to emerge from the west Coast of Africa. King Masco has released several albums, and is known as the "King of African Music".
King Masco's dynamic performances over the past 20 years have always left audiences asking for more. He has a number of important accolades to his name, including The Black Music Award for Best African Artist in 1980, Pan African Arts & Music Association Award as London's finest and most exciting group in 1994, in 1997 received the Pan African Music Award for Best Pan African Album of 1997 with "Mama I Am Coming Home", and was crowned Musician of the Year in 1998 and 1999 by the United Artist of Sierra Leone (UK Branch).
In 1980, he was guest artist on Bunny Mack's recording 'I Really Love You' at the C.B.S recording studio which is now called "Sony Music". In 1964, King Masco released his first single "Africa Love", followed by 'Party Jam" in 1986 and "Dancing Party" in 1987. In 1988, he released the long awaited album 'Take Me For What I Am", which e eventually became his fans 'national anthem'.
In 1991, another album was released "Oh Masco". 'The Beauty of Africa", in 1992, 'From Africa with Love" in 1995, "African Love' in 1996, "Mama I am coming Home" in 1997 a record cherished by all his fans. His Latest album is 'Change' out now? Most of his songs are done in Krio (broken English) and some in English to cater for non Krio speaking audience.
His effect on the audience is electrifying, captivating and the response are never half hearted. His shows have lifted audience off their seats and they participate with enthusiasm. The crowds always leave with fond memories Of THE KING, KING MASCO, THE KING OF AFRICAN DANCE MUSIC
King Masco works tirelessly raising funds and awareness in education matters in Sierra Leone alongside his busy performing schedules
More information at www.carnivalvillage,org.uk
£5 Adv/Concs £8 Door
Author:
World Music Central News Department
World music news from the editors at World Music Central