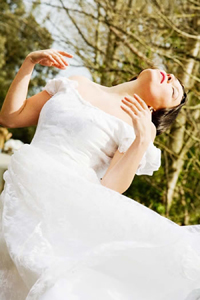 Award winning performer, Tanya Tagaq, will embark on her first United States solo tour in August 2009 to showcase her unique style of Inuit throat singing. The Nunavut-born singer has gained notoriety through partnering with the world's most groundbreaking artists, including a successful 2008 tour that she co-wrote and performed with the Kronos Quartet, aptly titled "Nunavut." She also worked with the multi-talented Mike Patton (Faith No More, Mr. Bungle) and her latest record Auk – Blood was released through his label Ipecac Recordings (Sept. 2008).
Icelandic visionary Björk took an interest early on to Tanya and brought her on her Vespertine tour in 2005. She returns to the U.S. in August, headlining her first solo tour with her own band in Los Angeles (8/8), San Francisco (8/15), and New York (8/19 & 8/20).
When Tanya Tagaqs' music fills your ears, she is one of those rare artists whose sounds and styles are truly innovative. 'Inuit throat singer' is one part of her sonic quotient. So are descriptions like 'orchestral' 'hip-hop-infused' and 'primal'…but these words are not usually used collectively. In the case of Tagaq, however – they are. Acclaim and respect has followed Tagaq on her two solo albums: both Sinaa and Auk / Blood were nominated for a Juno Award (Best Aboriginal Recording) and (Best Instrumental Recording) both recordings won in several categories at the Canadian Aboriginal Music Awards, including Best Female Artist.
Tanya will be performing alongside San Francisco-based drummer Scott Amendola and Vancouver violinist Jesse Zubot. Amendola has woven a dense and far reaching web of bandstand relationships that tie him to influential figures in jazz, blues, groove, rock and new music. Zubot is a founding member of the acoustic-roots ensemble 'Zubot & Dawson' and also a member of the Great Uncles of the Revolution. Both of these recording acts are Juno Award winners. Don't miss this great opportunity to see "the Jimi Hendrix of Inuit throat singers," (David Harrington of the Kronos Quartet) perform this summer.
August U.S. Tour Dates:
August 08 – Grand Performances – Los Angeles, CA
August 15 – Yerba Buena Center For The Arts – San Francisco, CA
August 19 – Lincoln Center [Out Of Doors] – New York, NY
August 20 – Smithsonian National Museum Of The American Indian – New York, NY
Buy Auk – Blood.
Author:
World Music Central News Department
World music news from the editors at World Music Central