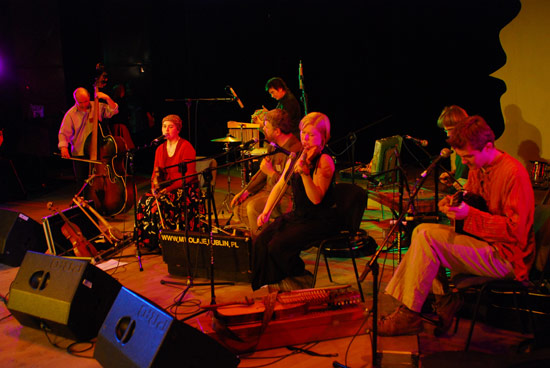 The 12th edition of the Rainforest World Music Festival in Sarawak Cultural Village (Sarawak, Malaysia) begins today. The fascinating program of global music for July 10 includes Kinabalu Merdu Sound (Malaysia), Lan-e Tuyang (Malaysia), Noreummachi (Korea), Sekaa Jaya Jenggala (Indonesia), Saint Nicholas Orchestra (Poland), Red Chamber (Canada/China) and Poum Tchack (France).
This year's festival includes several changes, including a new artistic director, Canadian musician Randy Raine-Reusch. The main stage has been totally revamped with a whole new seating area and the Rainforest World Craft Bazaar has been expanded to 72 booths (stalls). " I'm actually very pleased with the groups we got here," said Raine-Reusch. "These musicians are veterans of folk music and world music festivals."
A reception that included dinner and musical performances was held yesterday, July 9th, at the Sarawak Tourism Complex, where the Minister of Urban Development and Tourism Sarawak, YB Datuk Michael Manyin anak Jawong, welcomed the musicians, media, staff and volunteers to the festival. The ceremony included performances by Pratonk Ensemble from Anna Rais Longhouse in Bidayuh Community (Sarawak) and Korean group Noreummachi.
The influx of foreign visitors to the festival (organizers expect close to 30,000 visitors) is a concern for the Sarawak state Health Department. There is a World Health Organization alert on Influenza A (H1N1) and, according to the English language newspaper New Straits Times, the Deputy Chief Minister Tan Sri Dr. George Chan Hong Nam said July 8th that the department had prepared for the possible spread of the virus. Festival concert-goers have been asked not to go to the Rainforest World Music Festival if they have fever, cough, runny nose or sore throat..
The Rainforest World Music Festival brings together on the same stage renowned world musicians from all continents and indigenous musicians from the interiors of the mythical island of Borneo. The festival includes informative workshops, ethno-musical lectures, jamming sessions and mini concerts, followed by evening performances on the main stage.
The festival site also sets up a variety of food and drink stalls, an arts and crafts area as well as a counter for festival memorabilia, Sarawak souvenirs and CDs by the performing artists.
More at: www.rainforestmusic-borneo.com
Author:
World Music Central News Department
World music news from the editors at World Music Central