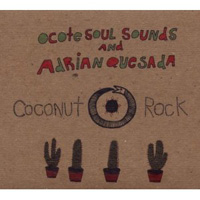 Ocote Soul Sounds and Adrian Quesada
Coconut Rock (ESL Music ESL151, 2009)
This second collaboration between multi-instrumentalists and modern-day musical Renaissance Men Martin Perna and Adrian Quesada follows handily on the heels of their first, The Alchemist Manifesto, released a year or so ago. Perna (aka Ocote Soul Sounds) is the leader of New York City [wiki:Afrobeat] revivalists Antibalas; Quesada heads up Austin-based Latin fusion band Grupo Fantasma.
Together with a gathering of players and singers from both their worlds, they've put together a deeply permeating collection of smoky Afro-Latin tracks that meld classic-sounding riffs, rhythms and melodies with production that's just contemporary enough to reflect the progressive, visionary stance of the artists.
Some of this stuff comes across like long lost rare groove from decades past, winding through instrumental passages heavy on foundational percussion, drums and bass that leaves solo space for psychedelic guitars, horns, keyboards, flute, glockenspiel and whatever else Perna and Quesada decide to toss in. The results could have been an arbitrary mess but instead unwind as a steady stream of music perfect for dancing and entrancing pleasure.
Your ears will catch dollops of Afrobeat militancy ("The Revolt of the Cockroach People"), dub dreaminess ("Tu Fin, Mi Comionzo"), Cuban roots ("Tres Ratas") and be delightfully assaulted by all-out jams and hypnotic excursions alike. The CD artwork and some of the songs reveal a sense of humor behind all this, but like the highly flammable ocote wood with which Perna identifies, the music burns serious. Recommended.
Buy the album:
Author:
Tom Orr
Tom Orr is a California-based writer whose talent and mental stability are of an equally questionable nature. His hobbies include ignoring trends, striking dramatic poses in front of his ever-tolerant wife and watching helplessly as his kids surpass him in all desirable traits.