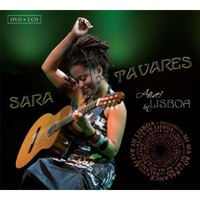 Sara Tavares
Sara Tavares – Alive in Lisboa (Times Square Records/World Connection TSQCD 9068, 2008)
Portuguese-born Sara Tavares has a new release coming out soon, and in case you've missed out on the sumptuous music she's created up until now, this collection will handily bring you up to date. It includes her two previous studio albums Mi Ma Bo and Balancê as well as an in-concert DVD shot in her homeland's capital city.
Being of Cape Verdean heritage, Tavares makes music similar to that of such recently emergent singers as Lura, Maria De Barros and Mayra Andrade who hail from that small Atlantic archipelago. But even casual listening reveals influences from other African nations that were once Portuguese colonies, plus doses of Brazilian, Caribbean and jazz coloring.
The studio discs have lost none of the charm they had at first earful, and the DVD shows Tavares sporting the same lilting voice, graceful melodies and infectious rhythms that made those first two albums so memorable. Actually, the songs come across even better in their live incarnations, many stretching out into extended mini-epics that showcase an excellent band including fellow Cape Verdean Boy Ge Mendes, whose effervescent lead guitar warmly compliments Tavares on acoustic rhythm.
There's not a lot of flash in the way the cameras capture the action, nor is there anything indulgent in the way of lighting or effects. Which is precisely how it should be, since the intimate, inviting and danceable music needs no gimmicks. DVD extras include a documentary-style interview with Tavares, who speaks of her music in engaging detail as footage of recording sessions and performances show how it all comes together.
Plus there's a perfectly magical clip -alone worth the price of admission- of Tavares and fado singer Ana Moura harmonizing on a balcony accompanied by only a hypnotic drumbeat and muted handclapping. This superb package of viewing and listening pleasures is not to be missed.
Buy the recording/DVD:
Author:
Tom Orr
Tom Orr is a California-based writer whose talent and mental stability are of an equally questionable nature. His hobbies include ignoring trends, striking dramatic poses in front of his ever-tolerant wife and watching helplessly as his kids surpass him in all desirable traits.