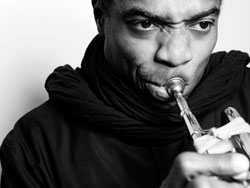 Glade Festival 2009 announced headliners and additional talent scheduled for this year's festival. The line-up includes Underworld, Juan Atkins, Femi Kuti, Nitin Sawhney, The Qemists, Rusko, Detroit techno legend Carl Craig, Adam Beyer, indie dance act Filthy Dukes, dubstepper Benga and Radio 1's Annie Nightingale amongst others. The new acts are all set to play at Glade Festival from Thursday 16th – Sunday 19th July 2009 at the new site Matterley Bowl, Winchester, Hampshire and will go on louder, later and longer than previous years.
After much speculation – fuelled by online whispering – the organizers can confirm Glade Festival 2009 is to be held at Matterley Bowl near Winchester. The exact details were only going to be released to ticket holders nearer the time but the rumors have forced Glade Festival to release the information prematurely. The location is well served by public transport and is about a half an hour's drive from their old home. There will be specially commissioned festival buses ferrying passengers from most UK cities and a shuttle bus from Winchester train station. Matterley Bowl is a real beauty in central south England and quite possibly the best festival site in the UK that combines a stunning bit of the old green and pleasant.
The decision to move the event from its former home at the Wasing Estate in Berkshire was forced due to the crippling noise restrictions enforced by the local council. The new site at Matterley Bowl means Glade Festival's 10,000 strong crowd can party hard well into the night without disturbing the neighbors. This year's Glade Festival will rev up the wow factor and have a look and feel of Mad Max meets Alice in Wonderland, coupled with surreal 3D installations to create multidimensional otherworldly spaces.
The Glade Stage makes a welcome return in all its glory and will feature an amazing variety of live acts – including world music such as Femi Kuti and The Positive Force Band, Nitin Sawhney and Finley Quaye – for the first time on Sunday. BLOC (from BLOC Weekend) host the Vapor Stage – the late night techno stage.
The Glade Festival is also unveiling two new areas, first up is Carmaggedon – a space with a post apocalyptic theme which will house multiple tents and stages hosted by Breaksday, Overkill, NSB.co.uk (formerly Nu Skool Breaks) and Cool & Deadly (hosted by Fabric dubsteppers Dublime and Kiss' Jay Cunning). Carmaggedon will also feature mind bending art from Nevada's Burning Man Festival, the scrap yard regeneration creations of the Mutoid Waste Company and the twisted cabaret of the Interstella Circus.
The Avalon is another new creation this year and is conceived as a festival within a festival – dedicated to a Pystrance way of life and attitude to living, as much as partying.
London's Underground electro club night Mulletover and breaks label Finger Lickin' host their own club tents on Saturday and Sunday respectively. The Finger Lickin' area will be billed as Finger Lickin' Funk so expect the best in bad ass funk mixed with breaks.
The Glade Festival 2009 launched their new flash website on Wednesday 1st April, which has a stage by stage breakdown of all the areas, including information on all the acts and promoters they're working with.
Tickets cost a mere £125 (the same price as last year). Glade Festival has extended their limited Student Initiative where students can buy tickets for a mere £100 until 8th May 2009. All tickets include free on-site camping. Camper & caravan tickets cost an additional £45. Tickets are also now on sale for the VIP boutique Tepee camping area too.
The Glade Festival won Best Dance Festival at last year's UK Festival Awards and is a 10,000 capacity event, visited by dance music and free spirited aficionados from around the world. The Glade Festival is known as one of Europe's best underground electronic festivals and will celebrate its sixth birthday in 2009 after starting life as part of Glastonbury festival (of which it is still a part of).
More information at www.gladefestival.com
Author:
World Music Central News Department
World music news from the editors at World Music Central