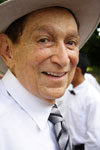 Colombian vallenato maestro, Rafael Escalona, died Wednesday, May 13th in Bogotá, Colombia. He was one of the greatest composers and singers of vallenato music. Rafael Escalona was also one of the founders of the renowned vallenato music festival Festival de la Leyenda Vallenata in Valledupar, Colombia.
Numerous Colombian musicians expressed publicly their condolences, including El Mono Zabaleta, Elías Mendoza, Emiliano Daza & Ponchito Monsalvo and pop star Shakira. Colombian politicians, army generals, musicians and music fans paid their respects inside Colombia's Congress building and a group of vallenato accordionists led a procession from Congress to the cathedral.
Rafael Escalona was born May 27 of 1927 in Patillal, in northern Colombia. He wrote his first songs while in middle school, but he never became a professional musician. In an interview made by German Posada which was published in Músicas del mundo.org, Rafael Escalona said: "I don't play any instruments, I don't have a band, I only sing with my friends at night while we party…I don't make a living from music, I'm a cotton farmer and rancher in the northern coast of Colombia and since I was a child I like to work. I compose vallenatos in a different style, sort of like musical chronicles like the gentleman that crashed his cart or the farmer that fell off his horse and broke his leg.
At one of the vallenato parties, back in the 1960s, Rafael Escalona, Consuelo Araujo and other friends decided to start a vallenato festival. The first edition took place in 1968 and since then the festival has become one of the most important annual musical events in Colombia.
Raafel Escalona's popularity was such that a highly successful TV soap opera titled Escalona was made in 1991, based on his life. Colombian vallenato star Carlos Vives played the role of Rafael Escalona.
Some Rafael Escalona's most famous songs include 'La casa en el aire' and 'El manantial,' 'Miguel Canales', 'La despedida', 'La vieja Sara', 'El testamento' and 'Jaime Molina'
In 2006, the Latin academy of Recording Arts and Sciences (LARAS), gave Rafael Escalona an honorary Latin Grammy award for his life time achievements. In 2007 Rafael Escalona received the prestigious Colombian national award Premio Aplauso a las Bellas Artes.
Vallenato is the name of those born in the Valle (Valley) of Valledupar. It is also a music style that is composed of four airs or typical rhythms of the region. The songs talk about the personal experiences of the writers and the feelings of the mestizo (mixed race) culture that represents most Colombians.
Interview translation by Angel Romero
Author:
World Music Central News Department
World music news from the editors at World Music Central