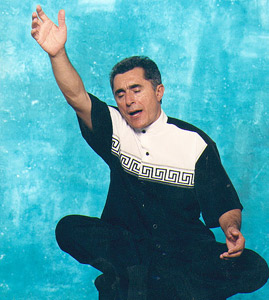 Right after the phenomenal success of the inaugural WOMAD Abu Dhabi 2009, Abu Dhabi Authority for Culture and Heritage (ADACH) will continue to bring international world music acts in May 2009 to the United Arab Emirates. The program includes Paco Peña Flamenco Dance Company (Spain), Habana Son Music Club (Cuba), and Alim Qasimov (Azerbaijan).
Program:
Paco Peña Flamenco Dance Company: A Compas (Spain)
Thursday 14 May 2009
Flamenco musician Paco Peña is a guitarist, composer, dramatist, producer and artistic mentor. Venues for his solo performances have included the intimate Ronnie Scott's Jazz Club and the monumental Royal Albert Hall in London , New York's Carnegie Hall and the Concertgebouw in Amsterdam. The musicians' interwoven melodies and intricate rhythms are the driving force behind the A Compas program- combined with the elegance and powerful interpretation of the dancers.
Habana Son Music Club (Cuba)
Thursday 21 May 2009
Habana Son Music Club combines traditional Cuban roots music with a modern repertoire based on rhythms like Son, Cha-Cha-Cha, Guaracha, Bolero, Danzon, Pilon and of course, Salsa. Acoustic and electric instruments combine to create a spontaneous mix that entrances audiences in festivals as diverse as Milan's Festival LatinoAmericano, Geneve City Festival, Austria's Sunsplash Festival and the Rainforest World Music Festival in Malaysia. Besides their own compositions, Habana Son Club perform the best of Compay Segundo, Juan Almeida, Solina Carillo, Pacho Alonso and other Cuban legends.
Alim Qasimov (Azerbaijan)
Tuesday 26 May 2009
Alim Qasimov, born in 1957 in Shamakha is an Azerbaijani musical legend, revered as one of the five best singers of all time. Qasimov is known for his work in traditional Azerbaijani music and more specifically his renderings of mugham and ashiq. Mugham is a traditional, or classical, musical style which has its origins in the Caucasus and the Turkish-speaking peoples of Central Asia and no one interprets the improvisational poetry and haunting sounds of this genre like Qasimov. He has released nine albums, has toured the world's most prestigious venues and festivals (most recently London's Barbican with the Kronos Quartet) and in 1999, won the prestigious UNESCO Music Prize, one of the highest international accolades that a musician can hope for-previous laureates have included Dmitri Shostakovich, Leonard Bernstein, Ravi Shankar and Nusrat Fateh Ali Khan.
Author:
World Music Central News Department
World music news from the editors at World Music Central