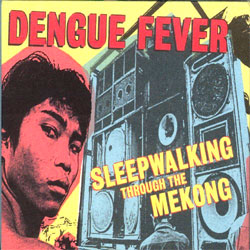 Los Angeles (California), USA – M80 Music announced today that the documentary film Sleepwalking Through The Mekong, will be released on April 14, 2009 as two-disc set via Nail Distribution and online via IODA. The package features a DVD and a CD soundtrack of the film.
Sleepwalking Through The Mekong chronicles the journey taken by Los Angeles based Khmer rock band Dengue Fever to lead singer Chhom Nimol's native Cambodia during the 2005 Water Festival. The band's performances there marked the first time a Western band had performed classic 1960s and '70s Cambodian rock 'n' roll in the country where it was created and nearly erased from existence by the brutal Pol Pot regime.
More than a rockumentary, the film serves up a portrait of modern Cambodia as the band tours through Phnom Penh and beyond, crossing a great cultural chasm with the same spirit of Cambodia's original rock pioneers. The film has screened at a diverse number of festivals and museums including The Margaret Mead Film and Video Festival, The Hawaiian International Film Festival, Roskilde Festival, The Istanbul Museum of Fine Art and the Museum of Fine Art in Boston.
DVD bonus material includes a biography of the band Dengue Fever, live performance segments, comments from director John Pirozzi, segments on the Cambodian Water Festival, the traditional Cambodian Coconut Dance and Cambodia's Master Musicians.
The accompanying CD soundtrack includes classic tracks from Cambodian artists Ros Serey Sothea, Sinn Sisamouth and Meas Samoun, as well as original material created by Cambodian master musicians Tep Mary and Kong Nai with Dengue Fever, and previously unreleased Dengue Fever instrumental tracks "March of The Balloon Animals" and "Phnom Chisor Serenade".
Dengue Fever will also be making their live debut in both Australian and New Zealand at WOMADelaide and WOMAD NZ festivals. In April, the band will head out for more U.S. shows throughout the year in support of Sleepwalking Through The Mekong. Well known for their incendiary live show, Ray Davies of The Kinks recently commented, "They are like Blondie meets Led Zeppelin and I should know – I toured with both," on Later With Jools Holland on the BBC last November. Confirmed dates are:
03/07 @ WOMADelaide, Adelaide, Australia (2:30pm, stage 2+ film screening)
03/08 @ WOMADelaide, Adelaide, Australia (2:30pm, stage 1 + film screening)
03/14 @ WOMAD, New Plymouth, New Zealand (6:30pm, Gables Stage
+ film screening)
03/15 @ WOMAD, New Plymouth, New Zealand (3:30pm, TBS Bowl Stage
+ film screening)
04/17 @ The State Theater, Falls Church, VA (with Chicha Libre)
04/18 @ Plaza Duckpin Bowl, Richmond VA
04/19 @ The Orange Peel, [wiki:Asheville], NC
04/21 @ 40 Watt Club, Athens, GA (with Chicha Libre)
04/22 @ Club Downunder – Florida State University, Tallahassee, FL.
(with Chicha Libre)
04/24 @ One Eyed Jacks, New Orleans, LA
04/25 @ Festival International De Louisiane, Lafayette, LA
04/26 @ Festival International De Louisiane, Lafayette, LA
04/27 @ Mohawk, Austin, TX (with Chicha Libre)
07/11 @ La Fete De Marquette, Madison, WI
07/21 @ Chicago Folk and Roots Festival, Chicago, IL
Recordings available: