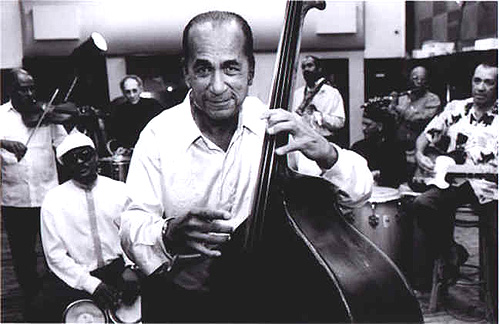 Many in the music world are mourning the loss of Cuban bassist Orlando "Cachaito" Lopez. Mr. Lopez died Monday, February 9, 2009 in a Havana hospital, succumbing to complication from prostate surgery. Mr. Lopez was 76.
"We are deeply saddened to announce that the legendary Cuban bassist Orlando 'Cachaíto' López passed away in a Havana hospital on Monday 9th February after complications following a routine operation the previous week," said a World Circuit press release.
Internationally known as one of the founding members of the Buena Vista Social Club and band mate to fellow musicians Compay Segundo, Ibrahim Ferrer and Rubén González, Mr. Lopez had long been one of Cuba's premier bassists, playing in the cabaret orchestra Bambú, the big band Riverside, Los Zafiros, the Afro Cuban All Stars and with the National Symphony. A driving force in the Cuban mambo movement, Mr. Lopez was also a fixture in the classical, popular and jazz music scenes in Cuba.
Born in Havana, Cuba in 1933, Mr. Lopez was part and parcel of his family's musical tradition, which included his father Orestes Lopez, a pianist, cellist, bassist and composer and a member of Cuba's national symphony, and his uncle, bassist and composer Israel "Cachao" Lopez. The family boasts of a tradition that includes some 100 bassists. "Isora," a song composed by his aunt Coralia, was the first piece Cachaito leaned to play. He would later go on to compose his first danzón at the age of 13 called "Isora Infantil."
Throughout his career, Mr. Lopez collaborated with stellar musicians and singers like Omara Portuondo, César Portillo de la Luz, Manuel Galbán, Chucho Valdés, Paquito D'Rivera and the group Irakere.
In addition to the Grammy-winning Buena Vista Social Club recording, Mr. Lopez released the solo CD Cachaito in 2001 on World Circuit Records with fellow musicians Manuel "Angá" Diaz, Pee Wee Ellis, Bigga Morrison, Manuel Galbán and Hugh Masekela. Cachaito won a BBC Radio 3 Award for World Music in 2002.
Mr. Lopez is expected to be cremated according to family wishes. No date has been set for a memorial service.
"We have lost a great companion," said guitarist Manuel Galbán.
"It is an irreplaceable loss for Cuban music, he was the last remaining member of the bass playing dynasty," said Buena Vista Social Club percussionist Amadito Valdés.
"It is a great loss for the group and for Cuban music because he was a superb bassist and a brilliant band mate. He was an excellent person and the quality of his music was, honestly, unparalleled," said Cuban trumpeter Guajiro Mirabal.
Author:
TJ Nelson
TJ Nelson is a regular CD reviewer and editor at World Music Central. She is also a fiction writer. Check out her latest book, Chasing Athena's Shadow.
Set in Pineboro, North Carolina, Chasing Athena's Shadow follows the adventures of Grace, an adult literacy teacher, as she seeks to solve a long forgotten family mystery. Her charmingly dysfunctional family is of little help in her quest. Along with her best friends, an attractive Mexican teacher and an amiable gay chef, Grace must find the one fading memory that holds the key to why Grace's great-grandmother, Athena, shot her husband on the courthouse steps in 1931.
Traversing the line between the Old South and New South, Grace will have to dig into the past to uncover Athena's true crime.