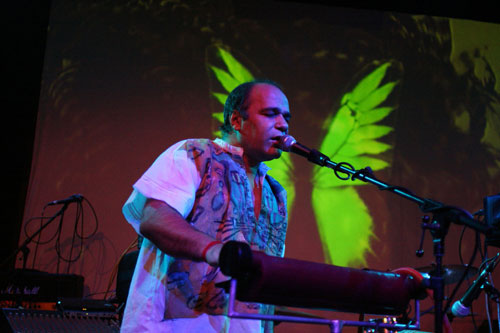 Iconic Mexican musician Jorge Reyes died of a heart attack on Saturday, February 7, 2009, at his recording studio. Jorge Reyes was 57.
Jorge Reyes was a leading figure in contemporary Mexican music. "He was one of the most interesting musicians in Mexico's contemporary scene," said Spanish arts presenter Yolanda Agudo. "He played pre-Hispanic and native music mixed with the latest technology." Reyes' body of work included world music, electronica, jazz, progressive rock, and a new genre he created, which he called tloque nahuaque, which consisted in using his body as a musical instrument, while at the same time performing harmonic chants.
Reyes was born in 1952 in Uruapan, in the Mexican state of Michoacán. He studied flute at the Universidad Nacional Autónoma de México (UNAM). During the 1960s Reyes studied classical music, jazz and electronic music in Germany. Later he traveled to India, where he learned Hindustani and Tibetan music.
Back in Mexico, Reyes formed two seminal rock bands, Al Universo and Nuevo México, which combined rock music with preHispanic musical instruments such as the teponaztle log drums as well as turtle and snail shells. In 1980, Jorge Reyes and Armando Suárez founded Chac Mool, an essential Mexican progressive rock band. Reyes recorded four albums with the group and played flute and guitar.
After Chac Mool disbanded, Reyes began a prolific solo career. Reyes collaborated with other music innovators, such as American synthesist Steve Roach and Spanish ambient guitar and minimalist composer Suso Saiz.
Author: World Music Central News Department
World music news from the editors at World Music Central