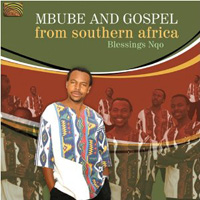 Blessings Nqo
Mbube and Gospel from Southern Africa (ARC Music EUCD 2199, 2009)
I suppose a guy with a name like Blessings Nqo is pretty much destined to be a gospel singer, though his musical expertise also stems from his having studied and performed in locales far away from his Zimbabwean homeland. Yet this is a release very much rooted in the regions of the self-explanatory title. Nqo's sound strikes some familiar chords, touching upon the a capella mbube popularized by South Africa's Ladysmith Black Mambazo, click song styles a la Miriam Makeba and, when instrumental accompaniment is involved, the same sort of laid-back rhythmic bounce as Oliver Mtukudzi.
I attempted to write this review as the disc was playing and continually found myself drifting into its enveloping, unpretentious beauty. Whether resting easy on nothing but vocals, bolstering the vocals with percussion or building a full band sound via electric instruments and horns, the songs are continually engaging, fresh and inspirational.
The loping harmonic structures set forth by Nqo and the background singers are at times peppered by vocally-produced nature sounds and beatbox playfulness for a lighthearted atmosphere as the singers and players praise the Lord, tell the devil to lay off, spin parables about life's quirks and, allowing for a little syncretism as far as beliefs go, finish up with a song about the virtues of a bone-casting traditional healer.
Most of the songs are originals composed by Nqo but have a handed-down warmth to them that give the album a feel that is both comforting and stirring. I thus heartily recommend this CD to anyone who might be in need of such.
Buy the CD:
Author:
Tom Orr
Tom Orr is a California-based writer whose talent and mental stability are of an equally questionable nature. His hobbies include ignoring trends, striking dramatic poses in front of his ever-tolerant wife and watching helplessly as his kids surpass him in all desirable traits.