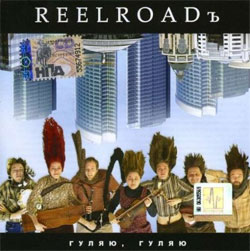 Reelroad
Гуляю, Гуляю – I Get Around (2007)
There's nothing like a little light-hearted folk music to liven up the cold, dark days of winter, so why not take a listen to the Russian folk group Reelroad's I Get Around. Delightfully colored with Russian wing-shaped gusili, bagpipes, guitar, flute, Irish harp, banjo and Russian fifes, called zhaleikas, I Get Around travels down the Russian contemporary folk road with plenty of bright vocal harmonies and an easygoing sound that blazes new paths. Part of the post-folk performance movement in Russian folk, Reelroad has deep roots in Celtic music, but now has reached back into its own Russian folk traditions and propelled that traditional sound into the future with contemporary sensibilities.
Opening with the bright "In Our Little Garden," Reelroad launches headlong into a sparkling sound full of good-natured guitar and violin, adding joyful vocals that will have listeners trying to keep up. Finely harmonized vocals infuse such wonderfully rich tracks like "Bathhouse Is Steamy and Ready" and "You May Dawn," making the I Get Around sound uniquely tight and neat. The easy sway of "Peacock" and the raucous vocals of "Rains Pours Down" reveal a spunky side to Reelroad's sound. Tracks like the ebullient "Poppy on the Hill" and the sweet lullaby sound created on "I Will Saw My Sorrow" are real showcases for Reelroad's talent.
Fashioning Reelroad's sounds are Alexey Belkin on gusli, Galician bagpiipe, shuttle pipe, zheleika and vocals; Svetlana Kondesyuk on flute, zheleika and vocals; Natalie Visokikh on violin; Alexey Skosirev on bass guitar; Anastasia Karaseva on Irish harp, tin whistle, pandereta and vocals; Alexander Cap Dmitriev on acoustic guitar, banjo and vocals and Denis Nikoforov on drums.
I Get Around revels a whirlwind sound crafted out of Russian folk traditions and launches it into squarely into the future. Deftly spinning harmonies and marrying those to harps, whistle, guitar and revolving rhythms, Reelroad crafts a sound that is fresh and modern, catapulting Russian folk music on to center stage of the new folk sound.
More information at; http://www.reelroad.spb.ru.
Author:
TJ Nelson
TJ Nelson is a regular CD reviewer and editor at World Music Central. She is also a fiction writer. Check out her latest book, Chasing Athena's Shadow.
Set in Pineboro, North Carolina, Chasing Athena's Shadow follows the adventures of Grace, an adult literacy teacher, as she seeks to solve a long forgotten family mystery. Her charmingly dysfunctional family is of little help in her quest. Along with her best friends, an attractive Mexican teacher and an amiable gay chef, Grace must find the one fading memory that holds the key to why Grace's great-grandmother, Athena, shot her husband on the courthouse steps in 1931.
Traversing the line between the Old South and New South, Grace will have to dig into the past to uncover Athena's true crime.