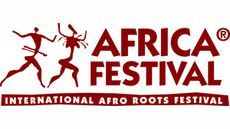 Twenty acts in four days, three each afternoon on an open-air stage, two well known acts each evening within a big top, provides enough time to appreciate each performer without cramping the variety Africa has to offer and all for ninety four euros.
The Tambours de Brazza opened the festival on Thursday lunchtime with a typically Congolese set of energy, musical accomplishment and visual spectacle only to be eclipsed by Tcheka whose live band are even better than the CDs. A conservative use of brass and eclectic percussion perfectly complement the two acoustic guitars, Tcheka's high, clear voice adding warmth and a further dimension to a wonderful sonic landscape.
Mamani Keita was unable to join Diely Moussa Kouyate onstage but his wife substituted to fine effect in the last open-air set of the day. In the evening Lokua Kanza includes a short set by his daughter Maleika Lokua who is accompanied on Spanish guitar by Patrice Lerose, his act being one of quite a few over the weekend that seemed a bit 'showbizzy' to British festival-goers but if it gives the music mass appeal without detracting from the quality why not?
Manu Dibango closed the first night with a set that ranged from free jazz to Afro-pop, 'Soul Makossa' sounded far younger than thirty five years old with the bass riff returning again and again to push the dancers in the wide pit at the front of the seating into energetic celebration. For part of the set Klaus Doldinger joined Manu on stage, together with the other saxophonist in the band this made for a full-on saxophone assault that belied the headliners (and festival curator this year) seventy-four years.
Friday was Vieux Farka Toure day as he closed the afternoon with effortless leadership of a virtuoso band and seemed to hold the audience in the palm of his hand. Earlier Adama Yalomba had given the day a rousing start which was brought back to earth by a lugubrious acoustic blues set from Boubacar Traore, impressively backed by harmonica and electric guitar. Habib Koite and Bamada opened the evening and it really is puzzling why he is not so well known in Britain (although a passage complaining about no-smoking areas probably went on a little too long).
Youssou N'Dour followed (although not with the billed guest appearance of Julia Saha) and I have to admit feeling a little frustrated that the live act does not grab me in the same way as some of his recorded music, nevertheless a strong competent set. Compagnie Sokan from Burkina Faso opened Saturday with the most ethnic performance of the weekend and in contrast were followed by an out and out
guitar band, Neco Novellas from Mozambique.
For me they were the find of the weekend with rock dynamics and stage presence. More guitar heroics followed from Toumast, quieter yet more impressive in Würzburg than at WOMAD last year, this may have been down to having a full complement of members rather than the visa restricted line-up in England. I like Toumast but I have the problem that when I close my eyes it could be Lenny Kravitz.
The third 'no-show' of the weekend affected Mpho and Uvima who did have one of the band absent through a visa refusal but generally the backing of local government for this festival in Germany makes this a rare occurrence and none of the named acts were greatly compromised. Mpho is a powerful performer and she and her enourage kicked off ladies night to great effect. Who could follow such gusto? Well, the tiny dynamo that is Angelique Kidjo is one of the few but her set was a revelation of audience participation, and she does not hold back with her views either. Down on the dance floor I felt like a teenybopper as my jaw dropped when she danced and sang a metre in front of me on her extended walkabout through the auditorium. In excess of twenty people ended up on stage to demonstrate, with vary competence, their dancing skills.
Sunday was Sahara hot with the temperature hitting 30 deg C and the festival seemed to wilt a little as local reggae band Leo's Den tried to inject life into the crowd beyond their onsite support. Nigerian singer Asa had guested on a couple of songs with Angelique Kidjo the previous evening and her set recovered from a bland start to wake us up some. Nosliw are a German dancehall and reggae band who won me over a little by including a verse or two of John Holt's 'Ali Baba' in their intro.
The highlight of the weekend was the remarkable Hugh Masekela whose sparse trumpet dripped honey onto a songs that were not always sweet. He had told the crowd he was going to shake them out of their comfort zone and a slowed down and reworked 'Stimela' chilled us to the bone, 'Change Must Come' was passionate and lyrically updated to include Darfur and Zimbabwe. That a sixty-nine year old was able to eclipse so many other great performers with his impassioned singing and political diatribe, mellifluous playing and well-executed dancing and street theatre is a testament to a remarkable man, do not pass up an opportunity to see him.
Alpha Blondy called on Zep samples and Floyd lyrics to galvanize the crowd and although his reggae version of 'Wish You Were Here' was being played everywhere when I was in Mali earlier this year and brought back warm memories it was Hugh Masekela who gave me the music to remember Würzburg. I will definitely be checking to see who is on the bill next year.
Web sites and additional information:
Festival site: http://www.africafestival.org