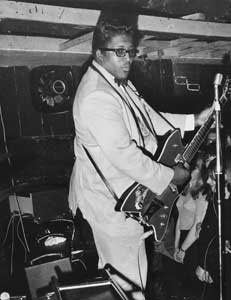 World Music Central's list of musicians, scholars and music industry professionals who left us in 2008.
June
1
Al Jones, 62, singer, songwriter and musician. Born Alun Ashworth Jones, Al Jones gained fame in the English folk and blues scene as a songwriter, guitarist and singer. His recordings include Swimming Pool and All My Friends Are Back Again. Mr. Jones also manufactured his Ashworth brand of instrument pickup and collaborated with guitar maker Nigel Thornbory to create Ashbory basses, now under the Fender label.
Alton Kelley, 67, artist. Mr. Kelly was an artist best remembered for his psychedelic rock concert and album designs. Mr. Kelley, along with collaborator Stanley "Mouse" Miller, created artwork for such musicians as the Grateful Dead, Janis Joplin and Jimi Hendrix.
2
Bo Diddley, 79, singer, songwriter and musician. Born Ellas Otha Bates, Mr. Diddley was known as "The Originator" for his role in influencing blues and rock music. His considerable discography includes Bo Diddley, The Super Super Blues Band with Muddy Waters and Howlin' Wolf, Where It All Began, Living Legend and A Man Amongst Men. Mr. Diddley was inducted into the rock and Roll Hall of Fame and was awarded the Pioneer Lifetime Achievement Award from the Rhythm and Blues Foundation.
4
Bill Finegan, 91, band leader, composer and arranger. Mr. Finegan arranged for likes of Glenn Miller and Tommy Dorsey on hits such as "Little Brown Jug" and "Sunrise Serenade." He later formed the Sauter-Finegan Orchestra with Eddie Sauter. He would go on to teach jazz at the University of Bridgeport.
7
Bill Coday, 66, singer. Mr. Coday started out by singing in juke joints in Arkansas, but soon teamed up Willie Mitchell to create such songs as "Sixty Minute Teaser," "You're Gonna Want Me" and "I'm Back to Collect." His other recordings include Sneakin' Back, Can't Get Enough and Put Me in the Mood.
8
Šaban Bajramović, 72, musician. Mr. Bajramović was a well known Romani musician who composed "Djelem, Djelem," the official Roma people's anthem. Known as 'the King of Gypsy music,' he is credited with composing more than 700 songs and recording over twenty albums.
Bob Grabeau, 81, singer. Mr. Grabeau was a big band vocalist who toured the country with his own orchestra. He also worked in television on Music Is My Beat and Strictly Informal.
12
Danny Davis, 83, musician. Mr. Davis was the band leader, vocalist and producer of the group Nashville Brass. He was also in bands led by Sammy Kaye, Freddy Martin and Art Mooney. His recordings include The Nashville Brass Play the Nashville Sound, Travelin,' and Cotton Eyed Joe.
14
Jamelão, 85, singer. Best known as a samba singer, Jamelão was the official singer of the Mangueira samba school carnival parades. He recorded Jamelão Interpreta Lupicinio in 1972.
Esbjörn Svensson, 44, musician. A jazz pianist, Mr. Svensson was the founder of the Esbjörn Svensson Trio or E.S.T. as the group was known. The trio recordings include the international hit From Gagarin's Point of View, Seven Days of Falling and Tuesday Wonderland. Mr. Svensson also recorded with Nils Landgren and Viktoria Tolstoy.
16
Margaret Kitchin, 94, musician. A child prodigy on the piano, Ms. Kitchin went on to study at the Royal Academy of Music. Later she would lend her considerable talents to the Society for the Promotion of New Music (SPNM) and composer Peter Racine Fricker who went on to write several works for her. Her recordings include Michael Tippett's "Fantasy Sonata" and Iain Hamilton's "Sonata Op. 13."
19
Denis Fréchette, 56, musician. Mr. Fréchette is perhaps remembered as one of the members of the Quebecois group La Bottine Souriante. Mr. Fréchette began playing the trumpet at the age of nine in the Cadets joliettains. He would later go on found the brass and percussion group Frechette and become a fixture at the jazz Festival in Montreal. He also taught music at Cégep Joliette-Lanaudière.
24
Dave Carpenter, 48, musician. Mr. Carpenter was a jazz bassist who participated in over two hundred recordings, as well as recorded for film and television. Over his career he worked with such artists as Buddy Rich, Woody Herman, Dianne Reeves and Johnny Mathis. His recordings include Mr. Drums: Live on King Street, San Francisco with Buddy Rich, Blue Condition with Bobby Caldwell and Green Chimneys: The Music of Thelonius Monk with Andy Summers.
Ira B. Tucker Sr., 83, singer. Mr. Tucker is perhaps best remembered as the lead singer of the American gospel group The Dixie Hummingbirds. He joined The Dixie Hummingbirds at the age of 13 and had been a participating member of the group for more than for 70 years. The Dixie Hummingbirds won a Grammy for "Loves Me Like a rock" and was inducted into the Grammy Hall of Fame in 2000.
27
Frédéric Botton, 71, composer and lyricist. Mr. Botton wrote the songs "Il Me Revient," "Zanzibar" and "L'Amour A Plusiers." He was also scored the music to the films Popsy Pop, Une Femme de Ménage and Ensemble, C'est Tout. In addition, Mr. Bottom composed for France 3's Ce Soir Ou Jamais.
Raymond Lefèvre, 78, arranger, conductor and orchestra leader. Mr. Lefèvre wrote the soundtracks to such movies as La Soupe Aux Choux and Le Gendarme de St. Tropez. He is also remembered as a favorite of singer Dalida and her recordings of Bambino, Por Favor and Tu Peux Tout Faire de Moi. His discography also includes Hits A Francaise and Soul Symphonies.
Daihachi Oguchi, 84, musician and composer. Master taiko drummer, Mr. Oguchi founded the taiko group San Francisco Taiko Dojo and led the drumming performance at the closing ceremonies of the 1998 Nagano Olympics. He is also credited as one of the first modern composer of taiko drumming and bringing about a worldwide audience for the art.
Leonard Pennario, 83, musician. A classical pianist, Mr. Pennario made his New York debut with the New York Philharmonic at Carnegie Hall in 1943. He later went on to play with the Minneapolis Symphony and recorded the Rachmaninoff 2nd Concerto that was eventually used in the Hollywood film September Affair. Mr. Pennario went on to record a number of classical LPs of the works of Chopin, Rachmaninoff and Prokofiev.
28
Ronnie Mathews, 72, musician. A jazz pianist, Mr. Mathews is best known for his collaborations with Max Roach and Art Blakey's jazz Messengers. He also played with the Johnny Griffin Quartet and toured with the Freddie Hubbard and Dizzy Gillespie group United Nations Band. His discography includes Trip to the Orient with Louis Hayes and Yoshio Duzuki, At Café De Copains and Shadows of Monk.
Stig Olin, 87, songwriter. Singer, songwriter, actor and theater director, as well as father to actress Lena Olin and singer Mats Olin, Stig Olin directed many musicals throughout the 1950s, 60s and 70s. He also was a songwriter known for "En Gång Jag Seglar I Hamn," "Människors Glädje" and "Jag Tror På Sommaren."
30
Ángel Tavira, 83, musician and composer. Mr. Tavira is remembered as a composer of the son calentano musical tradition from the Guerrero state of Mexico. He led the group Hermanos Tavira Band and is credited with reviving traditional Mexican music including the works of Juan Reynoso, Filberto Salmerón and Severino Bañuelos.
Author:
TJ Nelson
TJ Nelson is a regular CD reviewer and editor at World Music Central. She is also a fiction writer. Check out her latest book, Chasing Athena's Shadow.
Set in Pineboro, North Carolina, Chasing Athena's Shadow follows the adventures of Grace, an adult literacy teacher, as she seeks to solve a long forgotten family mystery. Her charmingly dysfunctional family is of little help in her quest. Along with her best friends, an attractive Mexican teacher and an amiable gay chef, Grace must find the one fading memory that holds the key to why Grace's great-grandmother, Athena, shot her husband on the courthouse steps in 1931.
Traversing the line between the Old South and New South, Grace will have to dig into the past to uncover Athena's true crime.