Jill Turner discovers some gems in the cleverly crafted Putumayo compilation, Acoustic Arabia but remains confused by its title. Choosing to stay mainly, to the east of the Red Sea, this is more of a fusion album. Demonstrating the far reaching influence of Arabic music and perhaps more so music of the Gypsy musicians who travelled from the Persian plate, across the Red Sea, south to Sudan, across North Africa to Western Sahara before tripping northwards into the Iberian Pensinula.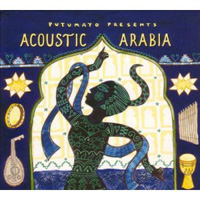 The compilation opens with a captivating track from folk singer Jamal Porto who lived at the RAS Inn in the Sinai peninsular for a few years where he took part in the RAS project, a gathering of forty artists from ten nations. His track Gamar Badawi was recorded on location and sets the tone beautifully but no sooner as that track finishes then the compilation goes off completely off piste and away from Acoustic Arabia and more into Al Andalus meets French Chanson in the port of Marseilles with an Algerian Musical Hall Classic, Alger Alger from Lili Boniche, an Algerian Jew living in exile in France and sung very ably and sassily by Les Orientales. Its a great track and gives Natacha Atlas', Ana Hina, a run for her money but one wonders what relevance the track has to Acoustic Arabia.
It depends on your expectations but a similar comment can be made with regards to the next track, a breezy number with Sudanese born, Spanish resident Rasha's lush vocals drifting fluidly over a rythmic track underpinned by hand drumming and interspersed with saxophones. And why the inclusion of the Maurice El Medioni track Tu n'Aurais Jamais Du, with its muted trumpets, Cuban percussion, jazz piano and, rumba rythm, it would be more at home on a Cuban Cafe compilation. Was it there to hang the next track on, from Syrian born Zein Al-Jundi which opens with a very European sounding concert style piano before the percussion and strings kick in.

A traditional Arabic ensemble would include the oud, ney, qanun, violin ( or perhaps an older stringed instrument) along with the favoured percussion instrument the riq which can be replaced by the tabla or the frame drum but you wouldn't know this listening to Acoustic Arabia.
Perhaps the track that tries to stay as close to this is the one from Charbel Rouhana & Hani Siblini, two Lebanese musicians schooled in Arabic music form an early age. Here they combine Western Jazz syncopation with the more traditional arabic ensemble in what becomes a constant theme in the sleeve notes, "adapting ancient traditions to create modern musical expressions".
Alongside some big names and established artists it is pleasing to find not only new comers but also Palestinian artists Zaman. However, the track that has been picked, Batalti Eli could have come straight from Spain's Gypsy Kings. This track sits in between the album's flirtation with flamenco and Arab-Andalusian music, preceeded by a stand out track Ghir Enta from Souad Massi and followed by Les Larmes de Boabdil from Belgian born Moroccan, Mousta Largo which recounts the historic tale of the last Arabic king of Granada.
In the middle of all of this is a track from Tiris, the Saharawi group of musicians displaced from Western Sahara and living in refugee camps in southwest Algeria. Their music has much to do with the Berbers of North Africa and contrary to the sleeve notes was produced by cutting edge producers Momo and Kad Achouri not British producers.
Despite its wanderings from the title, which has more to do with fitting in with the rest of the Putumayo catalogue, i.e Acoustic Africa, Arabic Groove etc…there are some gems of tracks form artists who warrant further investigation and enjoyment and as far as I can find out, the Jamal Porto and Zaman tracks are exclusive to this compilation. As always with Putumayo, it is a brand that can be trusted for its high production standards both in the quality of the cd itself and its packaging. Extensive sleeve notes give an introduction to the artists, their recordings as well as pronunciation guidance. The tracks have been cleverly picked to create a gentle listening experience with no sudden shocks or suprises with each one standing up well on its own.
Buy the CD:
Author:
Jill Turner
Jill Turner contributes to Songlines Magazine, World Music Central and is on the fRoots critics albums of the year panel. Her radio show GondwanaSound broadcasts on Sheffield Live! 93.2FM to the fourth largest city in the UK and is carried on both Radio Groovalizacion and African Internet Radio.