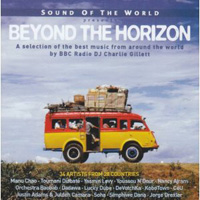 Various Artists
Sound of the World Presents Beyond the Horizon (Warner Classics and Jazz 5144288632, 2008)
It's always a pleasure to see and hear what BBC DJ Charlie Gillett will include on these year-end compilations of his, partly because there's bound to be a number of favorite artists and partly because some new and emerging ones will be present too. Gillett has a knack for pacing and presentation, beginning disc 1 with the heartbreaking calypso-laced ballad "Abatina" by Canadian/Trinidadian band Kobo Town before expanding the trance with Spain's Almasala and the dynamite UK/Gambian duo of Justin Adams and Juldeh Camara. But don't get me started on a blow-by-blow here. Instead I'll touch upon a few of what I regard as the highlights of this 34-track treasure chest: prime tracks by African legends Youssou N'Dour, Orchestra Baobab, Toumani Diabate and late greats Lucky Dube and Madilu System; contemporary Brazilian sounds from the sultry CeU and the inventive DJ Dolores; 'ud mastery courtesy of Palestine's Trio Joubran; Israeli Yasmin Levy's Sephardic spirit; Dengue Fever's hypnotic Cambodian psychedelia and, well, pretty much everything else.
Artists who pull off seemingly unlikely blends of countries and styles (including the Russian/Australian hybrid of Zulya and a meld of Burkina Faso, the USA, Austria and Germany who go by the name of Burkina Electric) are here alongside intrepid mixers of roots and cutting edge like the always-engaging Manu Chao, making for a variety of true "world" music.
Obviously, not every track is going to be to everyone's liking, but if you want a lineup that's all at once familiar, revelatory, adventurous, mysterious, mind-blowing and dance-inducing, this would be it. Very highly recommended for those just beginning to explore the global music scene, while veteran listeners will also find goodies aplenty.
Author:
Tom Orr
Tom Orr is a California-based writer whose talent and mental stability are of an equally questionable nature. His hobbies include ignoring trends, striking dramatic poses in front of his ever-tolerant wife and watching helplessly as his kids surpass him in all desirable traits.