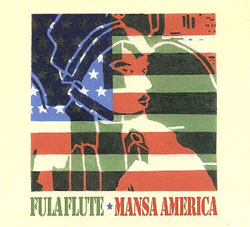 On December 9, 2008, Fula Flute will release its new CD " Mansa America" on Completelly Nuts Records. The CD features the hit song "Obama" declared "most beautiful pro-Obama song" by Radio-Canada.
The event will be celebrated on Tuesday, December 9 from 8 to 10 PM with a Release Party at DROM, located at 85 Avenue A, between 5th and 6th Streets in New York's East Village. The $15 admission includes a free copy of the CD.
Fula Flute was born in New York City in an encounter of cultures. Peul and Quebecois flutists Bailo Bah and Sylvain Leroux met in 1999. The Quebecois was already playing the instrument and interested in West African music. The World Music Institute soon offered them a chance to perform.
The concept of Fula Flute developed through recording the seminal CD "Fula Flute" released in 2002 to substantial critical welcomes and subsequent performances, such as the opening of Zankel Hall and a concert the following season with El Hadj Djeli Sory Kouyate, 92 year-old balafonist, dean of Guinean musicians. Music from the CD is a staple of Guinean radio-television and movies. "Keme Bourema," a track from the CD was licensed to the recently released "Desert Blues III." Fula Flute has also contributed to inspire a new generation of tambin players around the world.
Fula Flute will perform music from "Mansa America" and DJ Neva will provide the ambiance.
Buy the CD:
With "Mansa America" and the hit song "Obama," Fula Flute is poised for the future. The world is already responding to the YouTube video: http://www.youtube.com/watch?v=CLg_gJm8TYY
Author:
World Music Central News Department
World music news from the editors at World Music Central