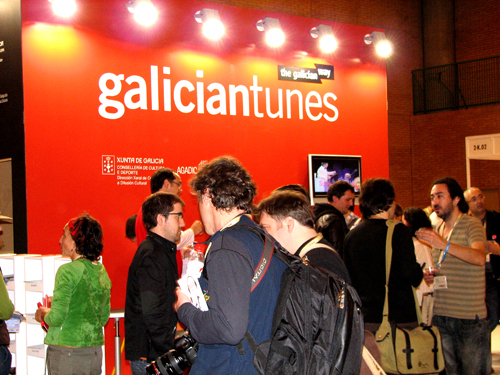 The latest edition of WOMEX took place in Sevilla (Spain). WOMEX, which is the acronym for World Music Expo, is the annual gathering of world music industry professionals. Participants include musicians, world music festivals, arts presenters, booking agents, record companies, government agencies, music journalists, NGOs, video producers and other companies and individuals involved in some form with the world music scene. "For four days, you know that you are not alone in the world and that there are other 'madmen' like you out there," said Alejandro Colinas of Alebrije (record company), from Mexico. While other music industry fairs and conferences are struggling, WOMEX keeps growing every year. A new record was broken in 2008, with over 2800 participants from all corners of the world.
"Opportunities, experiences, great people, emotion," said Mark Clark of Music Crossroads in suthern Africa. "It's a warm fair. World music people are usually good people and it's good to be around good people.î
The Sevilla edition was held at the Sevilla Convention center (Palacio de Congresos), also known as FIBES, located in East Sevilla. From 10 am to 6 pm, WOMEX delegates were able to conduct business at the trade fair area, which was split into two separate pavillions. It is hard to visit every single booth (stand) so it is convenient to schedule meetings in advance and choose the exhibitors you are interested in the most.
The trade fair is not the only event taking place during the day. There are also conferences, panels and press conferences. There is so much to do, that it is nearly impossible to do it all in three and a half days.
Showcases are one of the main attractions at WOMEX. The artists featured each year are chosen by a group known as the seven samurai. To make the process fair, these judges change every year and are selected from various nations and world music-related professions.
In Sevilla, showcases were split into daytime concerts and night performances. The daytime concerts were held at a FIBES theater called. These primarily acoustic concerts were meant for a quiet and intimate atmosphere.
During the night, concerts were held across town, at the historic Lope the Vega theater and two tents located at the Plaza de España, about ten minutes away from the theater. Most concerts run simultaneosuly so it is nearly impossible to see all acts. I chose the Lope the Vega venue because of the great acoustics and beauty of the place. I missed most of the tent performances and one British participant, who asked to remain anonymous, complained about the poor sound at the tent area.
Since showcasing means potential concerts and tours, good sound is essential for both musicians and WOMEX participants. While the main venues usually have very good sound, the smaller venues need improvement. I remember mediocre sound at some of the smaller venues at previous WOMEXes in Berlin, Marseilles, Stockholm and Essen. It seems like some of the sound engineers treat contemporary world music acts like rock bands and crank up the sound. Lower volume and more subtlety would be appreciated.
The first editions of WOMEX included delegates primarily from Europe and North America. Throughout the years, the Asian, Latin American and African presence has increased considerably. For example, in 2008 there were delegations from South Korea, Malaysia, Japan, Mexico, Brazil, Australia, Cuba, the Baltic area and other parts of the world.
The 2008 edition marked the last WOMEX in Sevilla. After three consecutive years in Sevilla, WOMEX moves much farther north, to Denmark. The Scandinavian countries had a large presence in 2008 and are excited to welcome WOMEX to their corner of the world. "We had a really good Scandinavian coverage in 2008 and our countries joined forces," said WOMEX veteran Inger Dirdal of Music Export Norway. "We look forward to Copenhagen and and we invite everybody to Scandinavia next year." As an appetizer, Norway brought young fiddle wizards Majorstuen, who performed in the Scandinavian area at the trade fair.
Photos:
1 –
2 –
Author:
World Music Central News Department
World music news from the editors at World Music Central