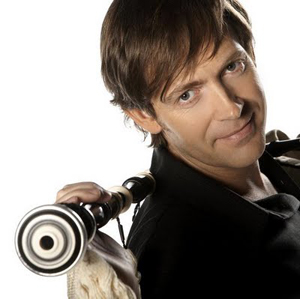 Womex 2008 celebrated its 14th edition in Sevilla last week. It was the final year of a total of four in Sevilla. The largest world music fair and conference moves to Copenhagen (Denmark) next year.
While the mainstream music industry is facing so many challenges the WOMEX Trade Fair continues to grow: WOMEX exhibitors have reached an all-time high of more than 650 companies, individuals or organisations in a sold out Trade Fair of 320 stands, up significantly from 2007.
More than 2800 delegates from all over the world gathered for 5 days of talk, trade, music and camaraderie. Once again the nightly Showcases were open to the public and hosted in the city centre at the famed Teatro Lope de Vega/Casino de la Exposición (2 stages), and another 2 stages in tents right in the heart of the Plaza de España. There, enthusiastic sevillanos and delegates mingled and heard act after act of major and upcoming world music stars.
In honor of the final year in Sevilla, the event kicked off with a tribute to Andalusia's world-renowned contribution to world music culture, flamenco. Award-winning flamenco great Miguel Poveda performed a riveting show to standing ovations after newcomers Ultra High Flamenco dazzled with their artistry.
This year's WOMEX Award went to folk stalwarts, Muzsikás, from Hungary. "Listening to Muzsikás connects us to a time and a place when music was intrinsically a political statement and playing your instrument a certain way was a courageous act," said author and producer Joe Boyd in his presentation speech. "The intensity of those times has never left Muzsikás, and we remain lucky to be able to commemorate the spirit of those times and these wonderful musicians with this award."
Dániel Hamar, band leader of Muzsikás, said, "It is the greatest honour that could happen to us this year to receive this special award from WOMEX. We never thought 35 years ago when we started playing and collecting traditional Hungarian folk music in Hungary and Transylvania that one day we would receive such a prestigious award… (We) always dreamt that with our interpretation this pure village music can travel the whole world. We feel that we arrived to a certain stage in our life were music plays a major role. With this award we receive new energies to continue this musical
journey for at least the coming next 35 years!"
A second WOMEX Award, this one for Professional Excellence in the Service of World Music, went to the Folk Music Department of the Sibelius Academy in Helsinki, Finland. "In creating the WOMEX Award," explained WOMEX General Director Gerald Seligman, "we intended to go beyond simple recognition of worthy accomplishment to highlighting lessons about how to work and share in a community of traditions and nations. That's why we are awarding the Folk Music Department of the Sibelius Academy. We want to focus on the role of enlightened education in preserving – and enhancing – tradition, and of the generosity of the Academy's efforts. They have helped transfer the model to other nations so that other educational institutions may benefit from such an innovative approach to music education."
WOMEX 08 was dedicated to the memory of WOMEX 07 Award winner Andy Palacio, a Garifuna musician and ambassador from Belize who died tragically, early in 2008. He received touching tributes from delegates and the WOMEX team. An Andy Palacio Foundation was announced during the Sunday Award Ceremony.
WOMEX 09 will be moving to Copenhagen, Denmark, and will be held from Wednesday, 28 October until Sunday, 1 November: http://www.womex.com/realwomex/news/copenhagen.html
Statistics for WOMEX 08
In 14 editions WOMEX has grown to…
+++ Over 2800 delegates and 1425 companies from more than 90
countries.
+++ Over 1000 concert and festival bookers, arguably the highest concentration of potential bookers in the same place at the same time anywhere on the planet.
+++ Over 750 labels, publishers and distributors.
+++ Over 850 managers and 450 producers.
+++ Over 310 national and international journalists, including 170 radio broadcasters.
+++ A bustling Trade Fair with 320 stands and over 650 exhibiting companies, including numerous umbrella stands of countries, regions, networks and other joint-venture structures.
+++ 49 Showcase acts with over 300 artists from 40 countries on 5 stages.
+++ Nearly 50 speakers in over two dozen Conference and Mentoring Sessions, Master Classes and the Daily News Forum.
+++ The festive Opening event, highlighting flamenco at its very best with concerts of Miguel Poveda and Ultra High Flamenco and a DJ set by Los Rumbers.
+++ The 10th Annual WOMEX Award, this year honouring Hungary's Muzsikás and Finland's Sibelius Academy, Folk Music Department.
+++ The WOMEX Top Label Award in recognition of label excellence, compiled in association with the World Music Charts Europe, this year awarded to Cumbancha.
+++ The WOMEX World Music Film Market with 13 film screenings, in cooperation with the International Music + Media Centre IMZ, Vienna.
+++ Numerous Networking Meetings, Presentations, Artists Press Conferences and Receptions.
+++ The Radio WOMEX broadcasting studio for live interviews and performances.
+++ The WOMEX TV Studio in Trade Fair Hall 1, WOMEX TV & Webcast, in cooperation with Mondomix, Paris.
+++ virtualWOMEX – the professional future of world music online.
WOMEX 08 was a production of WOMEX – the world music expo, in cooperation with ICAS (the Sevilla Insituto de la Cultura y las Artes) and FIBES.
Author:
World Music Central News Department
World music news from the editors at World Music Central