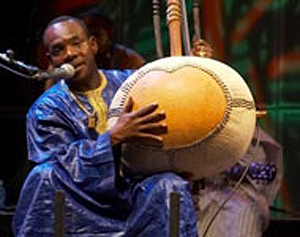 Malian master musician Toumani Diabate will presents his masterpiece for solo kora, "The Mande Variations" at the Skirball Center for the Performing Arts in NYU on November 2, 2008. The highly acclaimed World Circuit/Nonesuch CD, The Mande Variations features innovative interpretations of traditional music and groundbreaking improvisations, the album has been hailed as an important and challenging work of African music.
Diabate, from a long line of jalis or griots (oral historians and praise singers), is the guardian of an ancient musical tradition as well as a revered innovator. He has been instrumental in introducing the kora, a 21-string harp lute, to audiences around the world and in developing the kora into a solo concert instrument. Over the past two decades he has been noted for his solo work, as well as collaborations with Taj Mahal, Ali Farka Toure, Salif Keita, Roswell Rudd, and the flamenco group Ketama.
Toumani Diabate, in addition to being a player of exceptional virtuosity and creativity, plays a vital role as bandleader, teacher, musical conservationist and composer in the capital city of Bamako, Mali, where he was born and has lived all his life. Raised in a musical environment, he began playing kora at the age of five and was quickly recognized as a prodigy. He was self-taught, never learning directly from his father, Sidiki Diabate, a kora player of legendary fame in West Africa. Diabate made his debut at the age of 13 with a folkloric ensemble from Koulikoro, and at the age of 19, in 1984, accompanied Kandia Kouyate throughout Africa. Since this first tour outside Mali, Diabate has toured the world on many occasions, playing over 2000 concerts and participating in over 170 festivals.
In 1986, he made his first solo album, Kaira – the first-ever solo kora recording. His first major collaboration was "Songhai", with the Spanish flamenco group Ketama. This spirit of collaboration continued with Diabate's elaborate 1992 project with The Symmetric Orchestra, "Shake The Whole World". Over the last decade, Diabate has participated in many other recording projects, including New Ancient Strings, the kora duets album with Ballake Sissoko; Kulanjan, his duo album with Taj Mahal; Ali Farka Toure's eponymous debut album for World Circuit; Malicool, a collaboration with free jazz trombonist Roswell Rudd; Salif Keita's Grammy-winning album "Papa"; Kasse Mady Diabaté's Grammy-nominated album "Kassi Kasse"; the Grammy-winning In the Heart of the Moon, a duets album with Ali Farka Toure; and Boulevard de l'Independance with Diabate's Symmetric Orchestra.
In recent years, Diabate has received numerous accolades for his contribution to the development of the kora, and as a key figure in African music. In 2003, he received the Tamani d'Or, a prize awarded to the best kora player in the world. In 2004, he garnered the Zyriab des Virtuoses, a UNESCO prize awarded at the Mawazine Festival organized by King Mohammed VI of Morocco. Diabate is President/Director of Mandinka Kora Productions, which actively promotes the kora through workshops, festivals, and various cultural events. He is also a teacher of the kora and of modern and traditional music at the Balla Fasseke Conservatoire of Arts, Culture and Multimedia.
This program is made possible in part with public support from the New York State Council on the Arts, a State agency, and the New York City Department of Cultural Affairs.
Sunday, November 2, 2008 at 7:00 PM
NYU, 566 La Guardia Place at Washington Square South, NYC
$28, $35; students with college ID $18
Tickets (212) 352-3101 or www.skirballcenter.nyu.edu
Information/Tickets: 212-545-7536 * www.worldmusicinstitute.org
Author:
World Music Central News Department
World music news from the editors at World Music Central