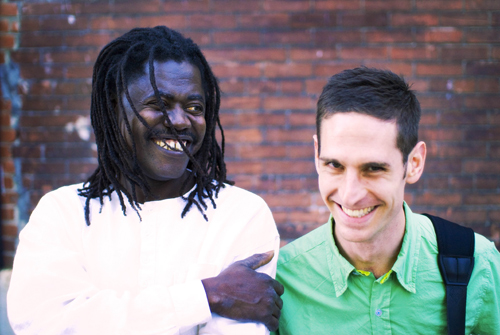 On Friday, September 26, Crossroads Music presents Africa to Appalachia, a collaborative project between Canadian banjo wizard Jayme Stone and Malian griot Mansa Sissoko that Lonesome Road Review described as "far more than an experiment: a magical unification of rhythms that is lively, memorable, and awe-inspiring."
The first of three concerts of West African music at Crossroads this fall, the event is also part of an' ongoing series of traditional, ethnic, international and related non-commercial music. It will begin at 7:30 pm at Calvary Center for Culture and Community at 48th Street and Baltimore Avenue. Tickets are $10-20 and are available both at the concert and in advance from Brown Paper Tickets (via the Crossroads website or at 1-800-838-3006) and at House of Our Own Books (3920 Spruce Street). A 25% discount is available when tickets for all three West African events are purchased at the same time.
Jayme Stone learned his craft both from fellow banjo players Béla Fleck, Tony Trischka and Bill Evans and jazz musicians like Dave Douglass and Bill Frisell. He began his professional career playing roots-inflected jazz with the band Tricycle, but his first solo album, 2007's Juno (Canadian Grammy) winning The Utmost, demonstrated that he is equally adept at jazz-inflected roots.
While he had long wondered what aspects of the banjo didn't make it across the ocean with the enslaved Africans who brought it to North America in the 1700-1800's, Jayme began studying African music seriously after meeting Mansa Sissoko during a 2004 tour of Canada. "With little common language between us, we turned to music for communication," he says of their first meeting. "This tangible heart-to-heart connection was there immediately and I knew that he was the perfect collaborator for the project." In preparation for recording the album Africa to Appalachia, Jayme spent seven weeks in Mali, where he studied with the likes of Djelimady Sissoko, Adama Tounkara, Bassekou Kouyate and Toumani Diabate.
Mansa Sissoko is both a griot from a family that preserves community history, stories, and music in the oral tradition and one of a new generation of singer-songwriters from Mali, West Africa who weaves his music around the sound of traditional instruments and lyrics which encourage people in their day-to-day life. A master of the kora, a 21-stringed harp, he grew up in the town of Kita, which has long been famous for its musicians. His mother sang for ceremonies like marriages and baptisms and especially for other women, while his father was a "speaking griot," who reminded people of their family histories, their roles and responsibilities in society.
For the past fifteen years, Mansa has been performing across Mali in both rural villages and major centers like Tombuktou, Segou, and Bamako. He has performed on national television, for ambassadors from around the world, and always for friends who visit at his house. For five years he played with the great Habib Koité and he has also recorded and performed with Tiken Jah Fakoly, one of West Africa's most popular new artists. He has toured Senegal, Burkina Faso, France, and Canada; organized and performed in Mali's national kora festival; and is the subject of an upcoming documentary film.
Crossroads Music is Philadelphia's only organization dedicated to organizing public performances by accomplished musicians with roots in cultures from around the world. Crossroads' programming is in part supported by grants from the Philadelphia Cultural Fund, Stockton Rush Bartol Foundation, the Samuel S. Fels Fund, the Five County Arts Fund (a Pennsylvania Partners in the Arts program funded by the Pennsylvania Council on the Arts and administered by the Greater Philadelphia Cultural Alliance).
Friday, September 26, 2008 at 7:30 pm
Calvary United Methodist Church
48th Street and Baltimore Avenue in Philadelphia
215-729-1028
Tour:
Sept. 15 – the ark, Ann Arbor
Sept. 18 – the cedar, Minneapolis, MN
Sept. 19 – Carleton college, Northfield, MN
Sept. 20 – Reif center, Grand Rapids, Mn
Sept. 21 – Crossings at Carnegie, Zumbrota, mn
Sept. 23-24 – Chicago world music festival
Sept. 26 – crossroads concerts, Philadelphia, pa
Sept. 27 – turtle dove, west grove, pa
Sept. 28 – mountain stage, Morgantown, wv
Sept. 30 – inner vagabond, Pittsburgh, pa
Oct. 3-4 – lotus world music festival, Bloomington, in
Oct. 8 – Berklee college of music, Boston, ma
Oct. 8 – Club passim, Cambridge, ma
Oct. 9 – Drom, New York, ny
Oct. 10 – chicory house, Wilkes-Barre, pa
Oct. 11 – Blackstone river theatre, providence, ri
Oct. 13 – institute of musical traditions, Takoma Park, MD
Oct. 14 – boulder theatre, Boulder, co
Oct. 17 – swallow hill, Denver, co
Buy the CD or MP3 download: Africa to Appalachia
Author:
World Music Central News Department
World music news from the editors at World Music Central