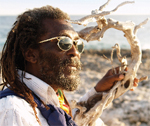 Hurricane Gustav hit the home of Claudius Linton a.k.a. "Kingman" (Hoffner Bros., Kingman & Jonah) and he has lost his roof. A small campaign has been launched to get him on his feet in Jamaica. Like many others on the island, Linton's house has been badly damaged by the powerful storm and many of his belongings destroyed. Fortunately, his guitar and his pets survived the storm.
For now, Claudius Linton has relocated to a shelter since the property is still flooded out. Claudius is devastated, but showing his true nature, he expressed his sincere sympathy for the people of Haiti, which was hit much harder and has much less canopy cover. He asked for help from his brethren and sent along great thanks and praise for whatever people are able to do for him.
Linton's record label, Sun King Records has started a fundraising campign: "Claudius' house got mashed up by the hurricane so we've been doing some fundraising to help him get a new roof on before the next hurricane comes through. Fans have been amazingly supportive and generous. There's a donation page at http://www.sunkingrecords.com and we've also discounted everything in the store 20% for a week or two to raise funds. So if you don't mind spreading the word a bit, we'd be grateful for any support."
The rediscovery and artistic rebirth of Claudius Linton, aka Kingman, is the reggae resurrection story of the decade. Indie rocker/producer Ian Jones (aka Jonah) met Linton, the artist behind 1976's #1 hit "Crying Time," on a Jamaican beach and struck up the partnership that has resulted in Linton's 2008 comeback album as Kingman & Jonah, titled Sign Time. Kingman, as Claudius Linton is known, recorded as a member of the Angelic Brothers and the Hofner Brothers before cutting his solo hits in the '70s, backed by a who's who of Jamaican reggae greats.
Kingman & Jonah's collaboration, despite their different musical and cultural backgrounds, is no experiment in fusion – Sign Time is a classic roots reggae album on par with Kingman's highly collectible 1970s singles. With a recording career that dates back to the early '60s ska movement and a musical and personal kinship with Bob Marley and Peter Tosh, Kingman is more than a veteran reggae hit-maker – he is one of the originators of the roots reggae vocal style associated with Culture and Burning Spear.
Sign Time reunites Kingman with the band heard on his classic singles — an aggregate of reggae veterans dubbed the "Buena Vista Social Club of reggae": Ansel Collins, Dwight Pinkney, Leroy "Horsemouth" Wallace, Keith Francis, Bongo Herman and Dean Fraser. Recorded in Bob Marley's Tuff Gong Studios, Sign Time is steeped in tradition and experience, but the music is no relic – it is the roots reggae sound of today.
Author:
World Music Central News Department
World music news from the editors at World Music Central