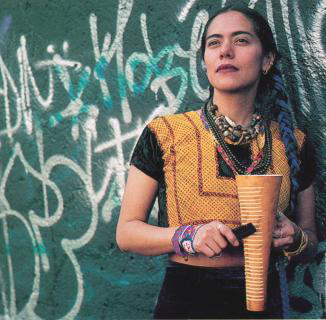 The tenth anniversary season of the KCRW World Festival at the Hollywood Bowl concludes on Sunday, September 21, at 7 pm with Ozomatli, Michael Franti & Spearhead, Lila Downs, and Nortec Collective presents Bostich + Fussible. KCRW DJ Raul Campos hosts.
Still enjoying the success of 2007's Don't Mess with the Dragon, Ozomatli returns to the Hollywood Bowl with their socially-conscious, hip-shaking mash-ups of hip-hop, salsa, cumbia, dub, and Middle Eastern funk. After twelve years of constant touring and collaborative song-writing, Ozomatli still spans the globe in support of addressing social issues through rousing performances that usually culminate in spontaneous drum line parties. As U.S. State Department Cultural Ambassadors, Ozomatli embarked on a series of government-sponsored international tours to Asia, Africa, South America, and the Middle East – tours that linked Ozomatli to a tradition of cultural diplomacy that also includes the esteemed likes of Duke Ellington, Benny Goodman, and Louis Armstrong.
On the local front, the three-time Grammy Award winners and two-time Billboard Latin Award winners are the new hosts of The Ozomatli Morning Show on Los Angeles radio station 98.7FM. Building on the success of their weekly "Ozolocal" show for the station, the band takes over the coveted, drive-time morning show slot with their singular blend of political commentary, wry humor, and all of the unique perspectives of a band reared across the multiple communities of Los Angeles.
Michael Franti & Spearhead, also widely recognized for their socially conscious roots music, return to the Hollywood Bowl in support of their latest release, All Rebel Rockers. Recorded in Kingston, [wiki:Jamaica], with reggae's most prolific production teams, Sly & Robbie, this new release deviates from Franti's previous sound and comprises a hybrid dub-infused soul flavor and some hard-hitting dub rock production. Californian-born poet, musician and composer, Franti blends hip-hop, funk and reggae together with his outspoken political and progressive lyrics and has gone on to become renowned as not only a worldwide million-selling artist, but also a leader in the peace and social justice movement.
Mexican singer Lila Downs taps into a vast reservoir of native Mesoamerican music by singing rich, folkloric songs in the Indian languages of [wiki:Mexico] such as Mixtec, Zapotec, Maya and Nahuatl. She makes her Hollywood Bowl debut in support of Shake Away, her new critically acclaimed studio album. Co-produced by Downs, the ambitious Shake Away features both covers and original songs in styles ranging from cumbia and ranchera, to blues and rock. The record boasts a slew of high-profile guests including Spanish rock legend Enrique Bunbury, Mercedes Sosa, Spanish flamenco chill out star La Mari, Cafe Tacuba's Rubén Albarrán, Raul Midón and Gilberto Gutierrez.
Nortec Collective, Tijuana's electronica leaders, create and perform a style of music called Nortec – a fusion of Norteño (from the North) and techno, documenting the collision between the style and culture of electronica and traditional Mexican music. Nortec Collective members Bostich and Fussible were the masterminds behind the hit tracks "Tengo La Voz", "Tijuana Bass", and "Tijuana Makes Me Happy" off their latest and double Latin Grammy-nominated album, Tijuana Sessions, Vol. 3. Nortec Collective presents Bostich + Fussible debuts at the Hollywood Bowl in support of their latest album, Bostich + Fussible: Tijuana Sound Machine. Mixing the old and new in their signature style, they perform with a regional Mexican backing band.
Tickets ($10 – $96) are on sale now at HollywoodBowl.com, at the Hollywood Bowl Box Office (Tuesday–Sunday, noon–6 p.m.), or by calling 323.850.2000, or Ticketmaster at 213.480.3232, and at all Ticketmaster outlets. Groups of 10 or more may be eligible for a 20% discount, subject to availability; call 323.850.2050 for further details.
HOLLYWOOD BOWL
2301 N. Highland Ave. in Hollywood
Media Sponsor: KCRW
Promotion Partner: Mexico Board of Tourism
Author:
World Music Central News Department
World music news from the editors at World Music Central