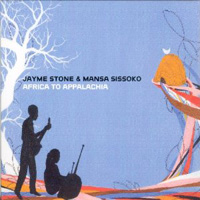 Jayme Stone & Mansa Sissoko
Africa to Appalachia (Jayme Stone, 2008)
When Canadian banjo player Jayme Stone wanted to dig deep into his instrument's origins, he went to Africa. Before that he'd studied the nuances of the late Ali Farka Toure's music and befriended Mansa Sissoko, a griot master of the kora, a 21-stringed African harp. But it was his African trek that really clarified things. In Mali, Stone hooked up with Bassekou Kouyate, renowned player of the ngoni (a lute widely regarded as a predecessor of the banjo), in addition to learning of older stringed instruments like the konou and juru keleni that are seldom if ever played nowadays.
Though Stone's African sojourn was marked by exploring musical connections that go back centuries, the resulting album, Africa to Appalachia, doesn't come across like a museum piece. Stone's banjo and Sissoko's kora riff superbly side by side, creating both swaying, dreamy textures and tart foot-stomping moments. Joined by African percussion, violin, guitar, bass, ngoni, vocals and a bit of trumpet in there somewhere, the tracks range from traditional to jazzy to hoedown-worthy.
As the disc progresses, the title's literalness becomes apparent: it's the African aspects that are primarily felt at the outset and gradually the more identifiably American textures come into play. Such a roots-to-branches approach not only makes sense, but makes for captivating listening as well. The global music scene has had a fair share of Africa/America collaborations lately. Africa to Appalachia is one that stands out through exemplary musicianship and an unassuming attitude, plus a true symbiosis of styles that were linked to begin with and ready for the rediscovery so keenly presented here.
Buy the CD or MP3 download: Africa to Appalachia
Author:
Tom Orr
Tom Orr is a California-based writer whose talent and mental stability are of an equally questionable nature. His hobbies include ignoring trends, striking dramatic poses in front of his ever-tolerant wife and watching helplessly as his kids surpass him in all desirable traits.