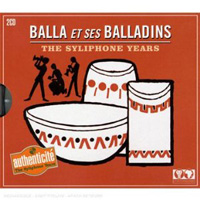 Balla et Ses Balladins – The Syliphone Years (Sterns Africa STCD3035/3036, 2008)
Samba Mapangala & Virunga – African Classics (Sheer Sound SLCD 149, 2008)
Fallou Dieng – African Classics (Sheer Sound SLCD 152, 2008)
A flood of great reissued African music continues to pour forth, and I have no complaints. It's been many years since the joys of African music first became known to me, yet I've still barely made my way down from the tip of the iceberg.
The Sterns Africa label has long been instrumental in presenting new African sounds and giving old ones a fresh go-around. Their latest in the latter category is a double CD recounting a dozen years worth of Guinea's Balla et Ses Balladins, who, along with Bembeya Jazz and Keletigui et Ses Tambourinis, completed a triumvirate of Guinea's most popular post-independence bands.
The bulk of the group were a breakaway faction from Syli Orchestra National, one of the first musical outfits established in accordance with Guinean president Sekou Toure's policy of authenticite, in which artists of all types were urged to look to traditional sources for inspiration. Balla et Ses Balladins (named for their leader Balla Onivogui) did indeed incorporate plenty of traditional linguistic and musical ideas into their sound, but borrowed liberally from jazz, Cuban and Congolese music as well. So the tracks on the two discs, lifted from the band's prolific 1968 to 1980 output, are gloriously tight jams that swing liberally with tart guitars, punctuating horns, Latin-speckled percussion and vocals that both croon and soar.< Detailed liner notes tell the story of the band (including a rather humorous account of name changes brought about by varying degrees of government favoritism) and provide song-by-song specifics. A superb package, one not to be missed. [caption id="attachment_23418" align="alignright" width="200"]
Samba Mapangala & Virunga – African Classics[/caption]A couple of recent releases in Sheer Sound's African Classics series likewise spotlight some very fine moments from two of Africa's many great voices. Kenya's Samba Mapangala and his band Virunga have long fused the rhythms of Kenyan benga music with the similarly swaying feel of Congolese and Tanzanian rumba. Mapangala's warbling, emotion-rich voice is matched by tingling, caressing guitar riffs and rhythms that are sparse by African standards but perfectly edify these songs of love, human foibles and personal praise for a couple of gents named Fonseka and Mabiala who were influential supporters of Virunga. Anything by Samba Mapangala is well worth hearing, and this is a great introduction to his work if you happen to be in need of one.
Senegal's Fallou Dieng specializes in m'balax, the driving, sabar drum-punctuated style first popularized by Youssou N'dour. Like the Mapangala disc, this African Classics consists of key tracks from past works, and you could be forgiven for thinking that you're listening to early Youssou N'dour as you're getting a dose of Fallou Dieng.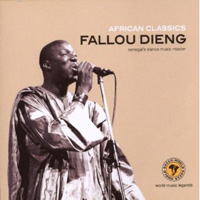 All the characteristics of classic m'balax are here: the skittering rhythms, lickity-split guitars and bass, deft punctuation from horns, keyboards or both, and Sufi-inspired call-and-response vocals. But listen closer and compare, and you'll find that Dieng is no mere imitator. His vocals have their own sense of timing and phrasing, his nimble intonations twisting, turning and scatting with what eventually emerges as a signature style full of grace and nuance.
Nearly every song here is well past the five-minute mark, and Dieng never falters in delivering the often fast-paced vocal goods. The liner notes are sparse almost to the point of non-existence and the back and inside covers list track running times that are entirely inaccurate, but the music here is crisply superb.
Buy the CDs:
Author:
Tom Orr
Tom Orr is a California-based writer whose talent and mental stability are of an equally questionable nature. His hobbies include ignoring trends, striking dramatic poses in front of his ever-tolerant wife and watching helplessly as his kids surpass him in all desirable traits.