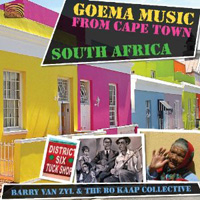 Barry Van Zyl & The Bo Kaap Collective
Goema Music From Cape Town, South Africa (ARC Music EUCD 2133, 2008)
Woefully uneducated as I am, I was not aware that the South African metropolis of Cape Town had a large Malay Muslim community. Called the Bo Kaap (meaning "above Cape Town," a reference to their location on the slopes of nearby Table Mountain), they're part of the larger multicultural area known as District Six. Like many expatriate communities, they've got a signature type of music. It's called goema (pronounced "gooma") and it's a guitar, banjo, percussion and vocal-driven style full of social commentary, slice-of-life observations and suggestive humor.
The tempos, usually quite lively, seem tailor made for dancing and celebration. Indeed, goema is the soundtrack for the Bo Kaap's yearly carnival, though it's also an everyday music heard in homes and at community functions. As such, the Bo Kaap must be one rhythmically alive community- this CD stomps like a hyper-speed combination of township jive and country music with jolts of Caribbean calypso, Central American paranda and Brazilian choro thrown in.
It's totally unlike any Muslim-rooted music I've ever heard, and every captured fanatical terrorist should be required to listen to it until they lighten the hell up. There are vocal pieces as well as instrumentals featuring some very deft guitar and drum workouts, all performed by a band comprised of both Bo Kaap and non-Bo Kaap musicians (the latter apparently organized by drummer/percussionist Barry Van Zyl, whose name gets top billing).
Cheers to the U.K.-based ARC label for bringing this wild and wonderful music out of hiding.
Buy the CD:
Author:
Tom Orr
Tom Orr is a California-based writer whose talent and mental stability are of an equally questionable nature. His hobbies include ignoring trends, striking dramatic poses in front of his ever-tolerant wife and watching helplessly as his kids surpass him in all desirable traits.