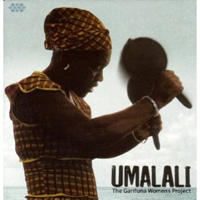 Umalali – The Garifuna Women's Project (Cumbancha/Stonetree Records CMB-CD-6, 2008)
There is, of course, a bittersweet air to Umalali (to be released on March 18th) that wouldn't be there were it not for the recent sudden death of Garifuna music master Andy Palacio. (Oddly enough, though, there almost seems to be some foreshadowing at work: the figures on the front and back covers of the CD are mournful in appearance, and the title of the last song translates as "Sad News.") So like it or not, this disc is something of an elegy to Palacio. And even if it's not considered such, it would still be both a worthy successor to Palacio's astounding Wátina release of a year ago, and, on its own terms, a beautifully realized next step in the popularizing of the Garifuna sound beyond its Central American origins.As with previous collections of Garifuna music (which are thankfully growing in number and availability), it's the duality of the Garifuna's African/Amerindian roots mixed with Spanish influences which accounts for the rustic soulfulness and unspoiled rough edges that invigorate the songs.
Wátina producer Ivan Duran is here again, applying the sort of modern sensibility (often in the form of electric guitars) that brings these tracks beyond the quaintness of mere field recordings while conversely strengthening the purity of them even more. The main difference between this and earlier Garifuna recordings is that this is the first to exclusively showcase women's voices. It's a safe bet that the as yet little-known singers here, including the assertively charming Sofia Blanco, young belter Desere Arana and the plaintive Marcela Torres, will indeed be able to take this side of Garifuna music to the same heights as the menfolk.
Yearningly solitary or in robust call-and-response, the voices are stirring, invigorating or lamenting as the songs demand and traditional instrumentation of acoustic guitar and earthy percussion, framed by Duran's contemporary add-ons, underpins the power. Plus, when unexpected sonic ground is broken, as on the highlife-like groove of "Barubana Yagien," the rhythmic tremble propelling "Anaha Ya" and the front porch blues of "Uruwei," the same sort of trailblazing that marked Wátina is evident. At under 40 minutes, the CD is too short despite being several years in the making. Still, every second is a savory wonder. Despite the tremendous loss of Andy Palacio, there is much here to indicate that Garifuna music has a long and healthy life yet to come.
Buy the CD:
Author:
Tom Orr
Tom Orr is a California-based writer whose talent and mental stability are of an equally questionable nature. His hobbies include ignoring trends, striking dramatic poses in front of his ever-tolerant wife and watching helplessly as his kids surpass him in all desirable traits.