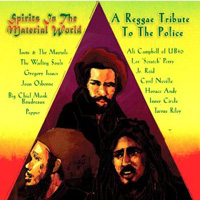 Various Artists
Spirits in the Material World, A Reggae Tribute to The Police (Shanachie, 2008)
Much was made of the Police's use of reggae rhythms, never mind that pop, punk, jazz and what we now call "world" music all played a role in their unique sound. But it was the reggae aspect that got them noticed, and not always for the better.
Many reggae purists complained that the Police diluted reggae to make it more mainstream accessible. Others, including some well-meaning journalists, hailed them as a big reggae breakthrough as though they were specifically a reggae band. These were lesser issues outside of the group's British home base, but over in America, where my interest in reggae was heating up around the same time as the Police's initial commercial success, I was among the intrigued.
Putting such concerns aside, let me state without reservation that Spirits in the Material World, A Reggae Tribute to The Police is smashingly good whether you're a reggae fan, a Police fan or some measure of both. Even the songs that weren't heavily reggae-infused originally are given inventive and often brilliant interpretations, and those that aren't radically altered- like the version of "Can't Stand Losing You" by Hawaiian band Pepper -recall the melding of reggae and rock that was one of the Police's key strengths.
What's most remarkable is the way reggae's characteristic mystical pulse is given renewed emphasis to fit the academic/esoteric content of many of the song covered. That approach makes Junior Reid's take on "Synchronicity I" a spellbinding starting point, and similarly Horace Andy's "Invisible Sun" (with corresponding Lee Perry dub), Cyril Neville's "Wrapped Around Your Finger" and Tarrus Riley's "King Of Pain" achieve the tricky task of both expanding upon and respecting the integrity of the originals.
Joan Osborne seems an odd choice for "Every Breath You Take" until she quietly takes your heart by storm with it, while Gregory Isaacs' wounded persona is perfect for "So Lonely." Old masters The Wailing Souls and Toots Hibbert triumph on "One World (Not Three)" and "De Doo Doo Doo De Da Da Da" respectively and though "The Bed's Too Big Without You" isn't one of the Police's better songs, Inner Circle manage to nice it up pretty well.
The only disappointment is "Every Little Thing She Does Is Magic," sung by UB40's Ali Campbell. Campbell is up to the task vocally, only to be shot down by an awkward arrangement that misses the combination of longing and jubilation that made the original such a joy. A shame, but it's more than made up for by the excellence of the other songs.
Oh, and brace yourself for the amazingly rendered title track, where Big Chief Monk Boudreaux splits the difference between New Orleans and Kingston and, as with so many other moments on the disc, prompts you to remember what a great song it was to begin with.
It matters not if the debate as to what the Police took from or gave to reggae will re-ignite because of this release, since anyone who delights in the music will come out a winner.
Buy the CD:
Author:
Tom Orr
Tom Orr is a California-based writer whose talent and mental stability are of an equally questionable nature. His hobbies include ignoring trends, striking dramatic poses in front of his ever-tolerant wife and watching helplessly as his kids surpass him in all desirable traits.