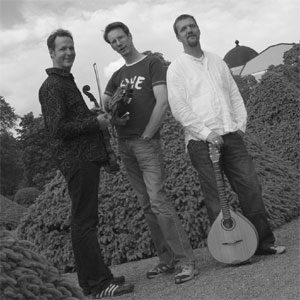 Renowned Celtic music acts, Swedish folk wizards Väsen and the Pan-European Ensemble are some of the highlights January 26 at Celtic Connections 2008. In addition, with the weekend, the workshops are back.
Complete program:
come&try
Stepdancing
Sat 26 January, 11am
£6
Glasgow Royal Concert Hall, Exhibition Hall
Here's a reel traditional fun way of keeping fit! All you need for this lively and spirited workshop are 2 feet (yours if possible), hard shoes and a sense of rhythm!
Sandra Robertson, from the excellent dance group, Dannsa will teach a variety of strathspey and reel steps. You'll not only learn traditional Scottish steps but you'll have a great time and it will be good for your health.
Public Workshops
Introduction to Fiddle Set Up & Maintenance
Sat 26 January, 11am
£6
Glasgow Royal Concert Hall, Buchanan Suite
Your fiddle deserves some tender loving care and this workshop will show you how to carry out some basic fiddle maintenance to keep it playing with as sweet a tone as possible. Vital fiddle questions will be answered by Bill McKenzie of The Violin Shop, Glasgow on basic fiddle & bow maintenance, set-up and repair. Bring along your fiddle & bow for a free health check.
come&try
Accordion
Sat 26 January, 11am
£6
Glasgow Royal Concert Hall, Lomond Foyer
No it's not Gandalf – it's the amazing accordion wizard Sandy Brechin! He will introduce you to some simple fingering for well-known tunes for complete beginners. Numbers are very limited because we don't have many accordions so if you can get your hands on one, please bring it along.
come&try
Waulking
Sat 26 January, 11am
£6
Glasgow Royal Concert Hall, Clyde Foyer
Here's a real treat! A workshop to try your hand at the ancient and traditional art of waulking (shrinking) the tweed. Chrissie Stewart-Skinner and Alpin Stewart will teach simple Gaelic songs to help you and the tweed along.
No knowledge of Gaelic is required and it really does shrink-we had to renew the piece of tweed this year because it had been waulked into oblivion!
The Annual Piping Concert with The Boghall & Bathgate Caledonia Pipe Band & The National Youth Pipe Band of Scotland
Sat 26 January, 12:30pm
£12.50
Glasgow Royal Concert Hall, Main Auditorium
A key fixture of every Celtic Connections festival since 1994, today's Piping Concert presents the customary diverse and distinguished line-up, headed by the Boghall and Bathgate Caledonia Pipe Band, who have been competing at Grade 1 level for more than a quarter-century. They enjoyed a particularly successful 2007 season, winning second and third place at the British and European championships, while the drum corps, under the leadership of reigning World Solo Drumming Champion Gordon Brown, were named Champion of Champions at the Cowal Gathering in August.
Formed in 2002, the National Youth Pipe Band of Scotland are a non-competing ensemble aimed at nurturing and showcasing the country's best young pipers and drummers, aged 12-21, with their performances featuring material from across the spectrum of traditional and contemporary piping.
Ceol Mor and The Young Tradition
Sat 26 January, 1pm
£10.50
Glasgow Royal Concert Hall, Strathclyde Suite
Best likened to a youth version of the Unusual Suspects, Ceol Mor is a grand-scale gathering of traditional musicians aged 16-25, comprising players from Scotland, the US and Canada. Their programme will feature new compositions by Corrina Hewat, David Milligan and Aidan O'Rourke, as well as arrangements by musical director Harris Playfair.
Following their highly successful TMSA tour last autumn, today sees the six finalists from 2007's Radio Scotland Young Traditional Musician of the Year competition reunited once more, with the winning Gaelic singer Catriona Watt performing alongside Mike Vass (fiddle), Calum Stewart (flute), Calum MacKinnon (pipes/whistles), Martin Hunter (accordion) and Darren MacLean (Gaelic song).
come&try
Shape Note Singing
Sat 26 January, 1:30pm
£6
Glasgow Royal Concert Hall, Exhibition Hall
This gutsy American folk hymn style is accessible to all and a lot of fun to sing. Ability to read music is not essential, nor is a "good" voice, just a positive enthusiastic curiosity about this style of group singing. Muldoon's Picnic will teach some songs and explain their fascinating background.
Public Workshops
Session Fiddle
Sat 26 January, 1:30pm
£6
Glasgow Royal Concert Hall, Buchanan Suite
Always wanted to take your fiddle to a session but lacked confidence? Learn the popular session tunes and the tricks to playing in a session with Lauren MacColl, winner of the BBC Radio 2 Young Folk Award 2004/5. You'll never look back!
Public Workshops
Accordion Techniques
Sat 26 January, 1:30pm
£6
Glasgow Royal Concert Hall, Lomond Foyer
Sandy Brechin has some stunning techniques which he is delighted to share with his students. These will help you develop your style of playing with special emphasis on the left hand. Please bring your own instrument.
Public Workshops
Singin On Yer Mammy's Knee
Sat 26 January, 1:30pm
£6
Glasgow Royal Concert Hall, Clyde Foyer
This workshop is for adults caring for young children (parents, childminders, playleaders). Lots of dandling songs, action songs and singing games for under 5s with an accompanying adult. Grown ups obligatory as they must come prepared to bounce the child on their knee. Chrissie Stewart-Skinner will teach lots of old favourites, all interactive and providing an insight into the developmental and social benefits of singing with young children. And it's fun and mushy too…
Danny Kyle's Open Stage hosted by Gibb Todd
Sat 26 January, 5pm
Free
Glasgow Royal Concert Hall, Exhibition Hall
Hosted by Danny Kyle's good friends Gibb Todd and Liz Clark, the Open Stage is a chance to see new musical talent as they try to win a coveted support slot at next year's festival – and all absolutely free!
In partnership with the Evening Times
The Laurels
Sat 26 January, 6pm
£10
City Halls, Recital Room
Comprising two-thirds of the Anna Massie Band – accordionist Mairearad Green and singer/guitarist Jenn Butterworth – with pianist Mhairi Hall, this new Scottish trio performs a largely song-based repertoire of both traditional and original material.
BBC Radio Scotland 92-95FM & 810MW Live Radio Broadcasts
Take the Floor
Sat 26 January, 7pm
Free but ticketed
Central Hotel
The longest running radio show in Scotland visits the festival once again with presenter Robbie Shepherd and special guests. This program will be broadcast live on BBC Radio Scotland.
Alasdair Fraser & Natalie Haas with Tony McManus & Friends & Oleman
Sat 26 January, 7:30pm
£16
City Halls, Grand Hall
The title of the new second CD by virtuoso Scottish fiddler Alasdair Fraser and US cello prodigy Natalie Haas, In the Moment, certainly pinpoints where these two musicians are – along with their audiences – when they play together.
In Fraser's own words, 'She's so simpatico that we can have these wonderfully shared musical journeys that very rarely involve planning, other than to say, 'Here's where we're going to begin, here's where we're going to end up; we know the material – now let's just connect.'
Now based in Canada, Fraser's former duo partner Tony McManus – 'the best Celtic guitarist in the world,' according to one John Renbourn – appears tonight with a lavish array of like-minded souls he's met on his musical travels. They include singer and multi-instrumentalist American folk polymath Bruce Molsky> and a string quartet led by Greg Lawson.
Formed at Stockholm's Royal Academy of Music, the Swedish/Norwegian quartet Oleman draw their repertoire largely from the southern border regions between the two countries. Comprising Olle Lindvall (guitar) Emma Johansson (flute/vocals), Anette Thorsheim (accordion) and Olof Misgeld (fiddles), they create fresh, original arrangements of dance tunes, love songs and narrative ballads.
Mindy Smith with Grant Campbell
Sat 26 January, 7:30pm
£12.50
Òran Mór
Mindy Smith's 2004 debut One Moment More saw her instantly hailed as a major talent, both for the silk-and-steel potency of her voice and the calibre of her songwriting, in a sure-handed blend of country, folk, gospel and Appalachian styles. After 2006's similarly assured Long Island Shores, a multi-faceted reflection on her birthplace, Smith makes a welcome visit to Celtic Connections with Lex Price on mandolin, having recovered from her illness last year.
With his grainily expressive voice and moodily soulful lyrics, Glasgow singer-songwriter Grant Campbell has been likened to Nebraska-era Springsteen. He recently released his second album Beyond Below, the follow-up to 2005's highly-praised Postcards From Nowhere.
Peatbog Faeries with Breabach
Sat 26 January, 7:30pm
£15
ABC
Having rocked Glasgow Green with their Highland-rave grooves at Proms in the Park 2007, Skye-based sextet the Peatbog Faeries return to Celtic Connections buoyed by the success of their recent fifth album, What Men Deserve to Lose. Long renowned as an awesome live act, the Peatbogs' core line-up of Peter Morrison (pipes/whistles), Adam Sutherland (fiddle), Tom Salter (guitar), Graeme Stafford (keyboards), Innes Hutton (bass) and Iain Copeland (drums), is nowadays boosted further by the Wayward Boys, a three-piece brass section led by trombonist Rick Taylor.
Hotly-tipped traditional five-piece Breabach won a Danny Kyle Award in 2005, and launched their debut release last summer, The Big Spree, with a powerhouse performance at the Cambridge Folk Festival.
Emma Pollock with Brendan Campbell
Sat 26 January, 7:30pm
£12.50
The Classic Grand
After more than ten years with Glasgow indie heroes The Delgados, Emma Pollock brings the full fruit of her musical experience to bear on her debut solo album, 'Watch the Fireworks', released on 4AD last September.
Ranging from sleek, sophisticated pop to bittersweet dreamy balladry, shot through with guitar-rock ferocity and framed by spikily intelligent lyrics, it prompted the BBC's reviewer to declare, 'There is no question: Emma Pollock is destined for big things'.
The fact that Brendan Campbell was recently signed by Keane's management company should offer a clue to the potent appeal of this young singer-songwriter's sound, which combines folk-inspired guitar-picking with dark-hued, poetic songcraft.
La Banda Europa
Sat 26 January, 8pm
£18, £16
Glasgow Royal Concert Hall, Main Auditorium
Premiered in 2006 to rapturous acclaim, La Banda Europa is a 35-strong pan-European ensemble, created by the renowned Scottish producer, composer and multi-instrumentalist Jim Sutherland, forging brand-new music from a panoply of different instruments and traditions.
A founder member of groundbreaking Scottish folk band The Easy Club, Sutherland won a Creative Scotland Award in 2006 to develop the project, which builds on his widely-acclaimed soundtrack to Festival, the BAFTA-winning movie starring Daniela Nardini.
La Banda Europa was first heard as part of the outdoor theatrical extravaganza Before the Wolf – the title referring to the 'wolf notes' sounded by traditional instruments, which lie outwith the tempered classical scale.
Imagine a trans-Continental Unusual Suspects, uniting French hurdy-gurdies, Swedish nyckelharpas, Armenian duduks and Spanish bugles with bagpipes from Serbia, Slovakia, Galicia, Asturias, Ireland and Scotland, plus brass, strings and an international battery of percussion – and you'll maybe be halfway there: La Banda Europa must truly be heard to be believed.
Väsen with Jenna Reid
Sat 26 January, 8pm
£12.50
Glasgow Royal Concert Hall, Strathclyde Suite
Flying the Swedish flag tonight, the brilliant quartet Väsen combine acoustic instrumentation – nyckelharpa, viola, guitar and percussion – with breathtaking virtuosity and freewheeling inventiveness, thanks to the near-telepathic attunement between Olov Johansson (nyckelharpa), Mikael Marin (viola), Roger Tallroth (guitar) and André Ferrari (percussion).
They will be joined on-stage by award-winning Shetland fiddler Jenna Reid whose profile has been rapidly on the rise in recent years, an ascent doubtless set to continue with tonight's launch of her hotly-anticipated second album, 'The Laughing Girl', featuring accompaniment from Kevin Mackenzie, Bethany Reid, Duncan Lyall, James Thomson, Iain Sandilands and Martin O'Neill.
Sylvia Barnes with Nordik Tree
Sat 26 January, 8pm
£12
The National Piping Centre
Ex-Kentigern/Battlefield Band vocalist Sylvia Barnes, Scots Singer of the Year at the 2006 Scots Trad Music Awards, shares tonight's bill with the inventive Swedish/Finnish instrumental trio Nordik Tree.
Griogair with Calum Stewart 3
Sat 26 January, 8pm
£12.50
The Tron Theatre
Continuing a long family tradition of singing and piping, rising Gaelic star Griogair Labhruidh is also a gifted guitarist and songwriter, who released his debut album Dail-riata in 2007.
Griogair appears tonight with Iain MacDonald (wooden flute), Allan MacDonald (jaws harp, whistles, vocals), Allan Henderson (fiddle, vocals) and Síle Denvir (clarsach, vocals).
Wooden flute player Calum Stewart, a Radio Scotland Young Traditional Musician of the Year finalist in 2007, appears with Lauren MacColl (fiddle) and Andy May (piano) marking the release of his much-anticipated debut album.
Teenage Fanclub with support
Sat 26 January, 9:30pm
£18
Old Fruitmarket
From their noisy, pre-grunge debut 'A Catholic Education' and the punkadelic 1991 classic 'Bandwagonesque' to the sparser, folkier feel of their most recent work, Glasgow's Teenage Fanclub have sustained both their core identity and a devoted fanbase thanks to the central songwriting triumvirate of Norman Blake, Raymond McGinley, and Gerard Love.
Inspired by such classic 60s and 70s outfits like the Byrds, the Beach Boys, Big Star and Badfinger, the band have steadily honed their skills at crafting sharply of-the-moment songs awash with vintage chiming guitars, soaring tunes and lush vocal harmonies, earning the accolade from a certain Liam Gallagher of being 'the second best band in the world.'
The musical synergy among the band, nowadays again featuring original drummer Francis MacDonald, has latterly seen them likened to a contemporary Scottish Crosby, Stills and Nash, with their latest album, 2005's 'Man-Made', aligning ruggedly radiant songcraft with the subtly quirky production of Tortoise's John McEntire.
Celtic Connections Festival Ceilidhs
Sat 26 January, 10pm
£8
Glasgow Royal Concert Hall, Exhibition Hall
Enjoy the perfect post-concert fling or pre-festival warm up, with the fantastic Alasdair MacCuish and The Black Rose Ceilidh Band.
Celtic Connections Festival Club hosted by Gibb Todd
Sat 26 January, 10:30pm
£7.50
Central Hotel
The late night club ensures there is even more music to enjoy after all the gigs are over. Join local and international artists as they make special unbilled appearances or join in one of many sessions happening in the bars.
With food and drink in plentiful supply you can happily keep going into the early hours of the morning whilst witnessing some of the best musical collaborations of the festival.
Master of ceremonies, Gibb Todd returns to present each act on stage and Doris Rougvie hosts The House of Song in a peaceful oasis away from the main stage.
The 15th Celtic Connections festival takes place over 19 days in January and February in 14 venues across Glasgow, Celtic Connections is the UK's premier Celtic music festival, with over 300 concerts, ceilidhs, talks, free events, late night sessions and workshops.
Tickets can be booked:
In person Glasgow Royal Concert Hall
2 Sauchiehall Street
Glasgow, G2 3NY
City Halls and Old Fruitmarket
Candleriggs
Glasgow, G1 1NQ
By phone 0141 353 8000
Online www.celticconnections.com
For further information check www.celticconnections.com.
Author:
World Music Central News Department
World music news from the editors at World Music Central