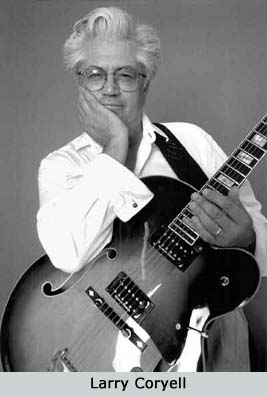 New York (NY), USA – Fresh off the heels of the enormously successful inaugural Adelaide Guitar Festival in Adelaide, Australia, which drew more than 30,000 attendees, organizers for the New York Guitar Festival (the original in a series of sister festivals, which also includes Wall to Wall Guitar Festival) announced its 7th season of concerts, January 12 – February 6, 2008.

With more than 25 performances by some 60 exceptional guitarists – whose styles vary from jazz and classical to rock/pop, traditional and avant-garde – the festival will explore the universal significance of the guitar. Audiences will be treated to concerts ranging from an all-day Guitar Marathon that focuses on the guitar's history in Brazil to eclectic tributes to country music's biggest legends.
A highlight at this year's event, The "Royal Albert Hall" Project honors the music of Bob Dylan, the most covered songwriter in history, by reinventing his famed 1966 concert. In 2006, the Bruce Springsteen tribute drew rave reviews and The Boss himself showed up to sit in. This year's performances will be held at Merkin Concert Hall, The 92nd Street Y, The World Financial Center's Winter Garden, Jazz Standard, the Apple SoHo Store, and The Monkey. Featured artists include Jorma Kaukonen (Jefferson Airplane, Hot Tuna), The Assad Brothers, Larry Coryell, GE Smith (former music director of SNL), Teddy Thompson, Stevie Jackson (Belle & Sebastian), Laura Cantrell, Marshall Crenshaw, Toshi Reagon, and Jason Isbell, among many others.
Concert schedule:
Saturday, January 12 at 8:00pm – Free opening night concert
The "Royal Albert Hall" Project
World Financial Center's Winter Garden
Battery Park City, bordered by West Street, the Hudson River, Vesey and Liberty Streets.
Information: (212) 945-2600 / www.worldfinancialcenter.com
The "Royal Albert Hall" Project honors Bob Dylan's storied May 17, 1966 concert — long the Dylan bootleggers' favorite, and released legit by Sony on CD in 1998 — which included material performed both solo and with The Hawks (soon after re-named The Band) (and which actually went down in Manchester, England, not London's Royal Albert Hall).
This free concert is the opening night of the 2008 New York Guitar Festival and takes place under the glass atrium of the World Financial Center's Winter Garden, 220 Vesey Street (directly across the street from the World Trade Center site), on Saturday, January 12 at 8:00pm. Performing their own arrangements of Dylan's songs in sequence from the original show will be Laura Cantrell, Stevie Jackson (Belle & Sebastian), Marshall Crenshaw, Oakley Hall, Nicole Atkins & Lenny Kaye, Jason Isbell, Jim Lauderdale, Toshi Reagon, Freeman (recently signed by RCA), Harry Manx & Kevin Breit, The Last Town Chorus/Megan Hickey, Jesse Harris, Richard Julian & Jim Campilongo, Kelly Joe Phelps, Chocolate Genius Inc. and others.
Sunday, January 15 at 2pm and 7pm, with a break at 5pm.
The Brazilian Guitar Marathon.
Features Sérgio & Odair Assad (the Marathon's co-curators) and others.
92nd Street Y
Lexington Avenue at 92nd Street
Tickets and information: (212) 415-5500 / www.92Y.org
In its 4th biannual Guitar Marathon, the guitar's rich history in Brazil will be explored, from renaissance and baroque to classical and flamenco repertoire. The Assad brothers are today's foremost guitar duo and have worked with artists such as Yo-Yo Ma, Paquito D'Rivera, Gidon Kremer and Dawn Upshaw. They collaborated with Yo-Yo Ma on his popular release, Obrigado Brazil, a Grammy-winner in 1998, and in 2002 they won a Latin Grammy for their release Sérgio & Odair Assad Play Piazzolla. The programming will also include the world premiere of a work commissioned by the NYGF. Composed by Stephan Crump, the work will be performed by his Rosetta Trio. All-day tickets are $60.
Blue Country Heart
4-concert Festival Subscription: $120
Single tickets: $35 in advance / $40 day of show
Merkin Concert Hall
Goodman House, 129 West 67th Street
Tickets and information: (212) 501-3303 / www.kaufman-center.org
Thursday, January 17, 2008 at 8:00pm
The Music of Hank Williams, Sr.
With John Schaefer (Host), Jorma Kaukonen, Larry Campbell, GE Smith, and Toby Walker. Taught by a bluesman known as "Tee-Tot," Hank wrote and sung some of country music's best-loved songs. He achieved much in his short life and his love for the blues lent his music a lasting quality that has kept him in the spotlight more than fifty years after his death.
Thursday, January 24, 2008 at 8:00pm
The Music of Merle Haggard
With John Schaefer (Host), Jorma Kaukonen, Larry Campbell, Jim Lauderdale, and Alvin Youngblood Hart. Carrying the mantle of country music into the rock era, Merle Haggard is the embodiment of how it's done right. With forty number-one hits in his career, Merle continues to tour in his 70th year. Join Jorma Kaukonen and friends as they explore the music that has kept us tapping our feet, singing along, and occasionally crying in our beer.
Thursday, January 31, 2008 at 8:00pm
The Music of Loretta Lynn
With John Schaefer (Host), Jorma Kaukonen, Larry Campbell, GE Smith and Taylor Barton, and Laura Cantrell. American icon and songwriting giant Loretta Lynn personifies the very heart of what country music describes: hard times made good through sharing music. Her career has been an autobiographical journey; she is truly one of the toughest spirits in music. Jorma Kaukonen and a star lineup will reinvent Loretta's very personal, folk-tinged music.
Wednesday, February 6, 2008 at 8:00pm
The Music of Lefty Frizzell
With John Schaefer (Host), Jorma Kaukonen, Larry Campbell, Jim Lauderdale, Teddy Thompson, and Ollabelle. Over thirty years ago, Lefty Frizzell left us with a legacy of country music that inspired generations of singers and songwriters; Merle Haggard, Roy Orbison and Willie Nelson all claim lineage to this early country and rockabilly legend. Lefty's sound continues to be imitated today as we interpret this legendary music on the concert stage.
In addition, New York Guitar Festival will host shows at the Jazz Standard and The Monkey, with more to be announced soon.
The New York Guitar Festival, a not-for-profit arts organization, was founded in 1999 by musician and producer David Spelman, who serves as the festival's Artistic Director. By fostering emerging talent, supporting innovative collaborations among outstanding artists and commissioning new works, the festival endeavors to broaden the public's appreciation for the guitar. The festival is presented with support from Apple Computer, The D'Addario Foundation for the Performing Arts, Avalon Guitars, WNYC Radio, WFUV Radio, WBJB-90.5 The NIGHT, Guitar Player Magazine/Music Player Network, flavorpill.net , and Brooklyn Brewery.
In addition to producing eclectic concerts and radio broadcasts, its Guitar Harvest series of recordings supports outreach programs in New York City public schools. Spelman says "In raising scholarship funding, the New York Guitar Festival, in partnership with the Lucy Moses School at Kaufman Center, is able to provide guitars and musical training free of charge. At a time when arts education is the first to go in budgetary cutbacks, encouraging hope and inspiration through music making is invaluable." The beneficiaries of the New York Guitar Festival's scholarship programs are young students enrolled at an innovative elementary school on Manhattan's Upper West Side.
More information at: www.newyorkguitarfestival.org.
Author:
World Music Central News Department
World music news from the editors at World Music Central