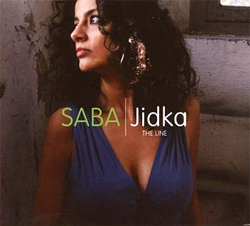 Somali singer Saba has recorded her first album, titled Jidka (The Line). On this debut recording, she explores the divide between Somalia and Italy (her adopted country) with a rare sensitivity and gentle humor; mixing acoustic guitars and koras with traditional African beats and contemporary percussion. The result reflects both one woman's search for her identity and what it means to be alive in the 21st century, when so many people live in more than one culture.
Jidka is Saba's way of telling her story. The word 'Jidka', which is the title track, means line – the line that runs on her belly and divides it into two parts – a darker side and a lighter one. This for her represents the union of diversities and the harmony that her parents found when they fell in love. Her story focuses on her identity as multilayered and with many different influences. She sings in her mother tongue – a type of Somali that is spoken in Reer Xamar, a quarter of Mogadishu, and has real expression and rhythm in itself. The result is an album which is a real mix of contemporary and traditional.
Many of the songs on the album describe the struggles of life in Somalia. 'I Sogni' is the story of a woman who leaves her village for the big city in search of a better life; 'Melissa', sung partly in English, is about the plight of many women who escaped the civil war and crossed the desert in search of freedom. 'Je Suis Petite' is dedicated to Africa – a continent full of suffering ('The world is cruel, and I am so little'). Other songs are more romantic, describing love and the importance of living in the moment ('Manta').'Hanfarkaan' describes how the wind is linked to the spirit – when it blows strongly it brings us into contact with the spirit of someone we have lost.
Saba is joined on jembe, guitar and percussion by long-term friend and collaborator, Tatè Nsongan, from Cameroon, on kora Senegalese Lao Kouyatè and on vocals Felix Moungara. The album is produced by well-known musician/ composer Fabio Barovero, founder of Mau Mau and the Banda Ionica project. As Saba says,'we worked to realize a sound which combines past and present, tradition and modernity, with our minds open to a future of increasing cultural mixes.'
Buy Jidka.
Author:
World Music Central News Department
World music news from the editors at World Music Central