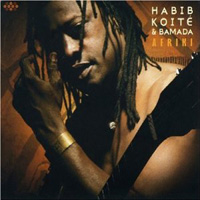 Habib Koite and Bamada
Afriki (Cumbancha CMB CD-5, 2007)
It's been half a dozen years since Malian guitar ace Habib Koité made some new music. I've contented myself with his three previous solo discs and one double live release and now rejoice that he and his band Bamada are once again in the game.
While Koite's initial round of popularity included far-flung touring, press coverage apart from the usual world music sources, pop star endorsements, American TV appearances and album sales unusually high for an African artist, it's the music that mattered then and matters now.
Koité still plays acoustic guitar like no one else on the planet- his techniques and tuning are designed to match and compliment the tonality of traditional instruments like the n'goni lute as well as embrace the intricacies of West African blues and strains suggestive of unplugged rock, folk, flamenco and any number of other styles. He also retains his expressively low-key way of singing, handling even harder-charging songs with a balladeer's flair and a griot's grace.
His new disc Afriki starts on familiar ground, with Koité's penetrating yet soothing guitar and voice nestled among the drum set, tama (talking drum), balafon (gourd xylophone played as usual by the wonderful Keletigui Diabate) and response vocals of "Namania."
It's as if no time at all has passed until you get to "Africa," on which horns arranged and led by saxophonist Pee Wee Ellis add unexpected fresh funk. Similarly, "N'teri" adds a string section that uplifts the underlying rhythm without over-sweetening it.
Particularly surprising is "Nta Dima," which feels rather like Haitian rara music with its rumbling hand drums, droning horns and chant vocals. It's the most back-to-basics-African-sounding piece that Koité's ever done and casts a considerable spell for being only just over three minutes in length.
There are other divergences, like the closing solo piece "Titati," the comic/dramatic group vocals of "Massake" and some well-placed female backing singers, but this is largely the Habib Koité we all know and love. Skillfully meshed acoustic guitars, stately bass, percolating rhythms and occasional violin and harmonica coloring prop up songs that, true to the title, are all about the continent and country from which Koite hails. The man is back. He's as good as ever, and given the sidesteps he's taken here, I'd have to say even better.
Buy Afriki.
Author:
Tom Orr
Tom Orr is a California-based writer whose talent and mental stability are of an equally questionable nature. His hobbies include ignoring trends, striking dramatic poses in front of his ever-tolerant wife and watching helplessly as his kids surpass him in all desirable traits.