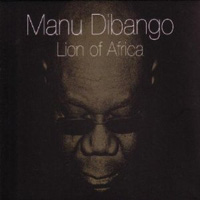 Manu Dibango
Lion of Africa (Global Mix GMCD/DVD01, 2007)
Like several of his African peers (such as Hugh Masekela), Cameroon's Manu Dibango was a superstar before the term "world music" even existed. His saxed-up worldwide 1972 hit "Soul Makossa" remains a classic, a combination of Western and Cameroonian dance music with which he will ever be identified.
But of course there's much more to the man. He's a multi-instrumentalist and composer who's been melding African music with jazz, funk, Latin, Caribbean, hip-hop and pop sounds for most of his 70-plus years on the planet, resulting in everything from deeply rooted cutting-edge sounds to stuff that wouldn't be out of place on easy listening radio.
Lion of Africa, a CD/DVD set recorded live in London in 2004, comes about as close as you can to capturing all of Dibango's glory in a single release.
Naturally, some of his own best material is here, including "Big Blow" and an extended "Soul Makossa." What additionally makes the album such a delightful surprise are such cover versions as Duke Ellington's "Morning Glory," Lionel Hampton's "Midnight Sun" and George Gershwin's "Summertime," all done up in smart Afro-jazzstyle.
Dibango's undiminished skills as a saxophonist, marimba player and vocalist are all on ample display. Rather than simply stealing the show, though, he also graciously jams with the evening's guests: singers Baaba Maal and Coco Mbassi and fellow sax man Courtney Pine, all of whom further the festivities.
On the excellently shot accompanying DVD, a smiling Dibango makes his way about the stage as he leads the sizable band, sings in his trademark warm baritone, creates magic on saxophones and marimba and basically shows why he's a legend without putting on any airs whatsoever.
Lion of Africa is a knockout combination of sound and vision that's deeply pleasing on both counts.
Buy Lion of Africa.
Author:
Tom Orr
Tom Orr is a California-based writer whose talent and mental stability are of an equally questionable nature. His hobbies include ignoring trends, striking dramatic poses in front of his ever-tolerant wife and watching helplessly as his kids surpass him in all desirable traits.