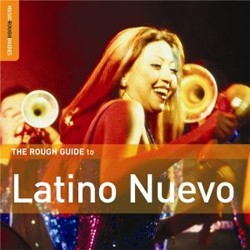 San Francisco (California), USA – Contemporary Latin music offers a unique melting pot of fresh flavors reflecting ever widening influences and cross-pollinations. From surf-rock band Cuban Cowboys to the sultry Colombian lilt of Hector Buitrago's trance-inducing electro-cumbia, The Rough Guide to Latino Nuevo (RGNET1190CD) is meant to be a passport to the intriguing world of fresh Latin sounds.
This album includes many of the exciting and innovative Latin bands around today, offering a real insight into Latin music of the twenty-first century. A good number of these artists are self-produced and on independent labels, so there is an emphasis on discovery and exposure, and even though many of them have operated outside the mainstream of European and American pop they have picked up the influences – jazz, folk, rock, soul and funk and combined them with their own.
Stand-out tracks include the Cuban Cowboys, Bakú, the mix of house, Afro-beat and salsa in 'An Announcement To Answer' by Quantic, the blend of funk and Latin by Yerba Buena, the 'tropi-punk' sound of Mexican Los de Abajo and the band that epitomize alternative Latin music, Ozomatli. And there is UK-based Alex Wilson's mix of Asian with Caribbean in 'Oh Kuri' and the blend of soukous with hip hop beats and Cuban percussion in 'Afrika', by the little known Spam Allstars.
This is a rich melting pot, where influences from every kind of music are worked into Latin sounds, pushing the boundaries of tried and tested formulas, from the reinterpretation of son by Grammy nominated Juan-Carlos Formell & Son Radical to the dreamy Columbian lilt of Hector Buitrago, the activist hip hop of Puerto Rican Rico Pabón and the beautiful vocals, which make a strong statement for women's rights in 'Mayahuel' by Quetzel.
This CD contains a data track that includes music and travel from the Rough Guide books.
Buy The Rough Guide to Latino Nuevo.
Author:
World Music Central News Department
World music news from the editors at World Music Central