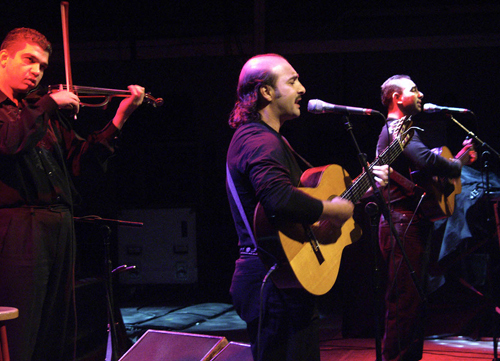 In its fourth year the Madison World Music Festival again brings extraordinary artists from all over the world for free performances on the Terrace, in the Wisconsin Union Theater and possibly in other venues. The festival will be held  September 13-15.
This year, the festival presents a Rom (Gypsy) showcase with three bands (NY Gypsy All-Stars, Romano Drom and Dhoad Gypsies) presenting three different styles of Romani music. The showcase will also include workshops by the artists and a lecture by professor Margaret Beissinger. Stiltwalking puppeteers Dragon Knights will add to the festivities.
The schedule includes the following:
Thursday, 9/13/2007
Terrace:
Ilgi (Latvia) 7 pm
New York Gypsy All-Star (Turkey, Macedonia, Greece, Balkan) 9 pm
Friday, 9/14/2007
Terrace:
Huong Thanh & Nguyen Le Quartet (Vietnam) 5:30 pm
Dragon Knight 7 pm (stiltwalking puppeteers)
Puerto Plata (Dominican Republic) 7:45 pm
Dragon Knight 9:15 pm
Romano Drom (Hungary) 10 pm
Wisconsin Union Theater:
Chirgilchin (Tuva) 6:30 pm
Haale (Iran) 9 pm
Saturday, 9/15/2007
Terrace:
Dragon Knight 5 pm
Estrella Acosta (Cuba, Holland) 5:45 pm
Dragon Knight 7:15 pm
Dhoad Gypsies (Rajasthan) 8 pm
Louis Mhlanga (Zimbabwe) 10 pm
Wisconsin Union Theater
Roberto Rodriguez and Maurice El Medioni Trio (Cuba, Algeria) 7 pm
The Gerard Edery Trio (Sephardic Jewish) 9:30 pm
As in past years, the festival is free and open to the public. This year, audience members may contribute to help keep it free, fabulous and accessible to all in future years. Donations may be sent to: Wisconsin Union Theater / MWMF Fund, 800 Langdon Street, Madison, WI 53706
The festival is sponsored by the Wisconsin Union Theater Committee and supported by: Alliant Energy Foundation, American Family Insurance, Anonymous Fund, Associated Students of Madison, Consulate General of the Netherlands, CREECA, Dane County Cultural Affairs Commission with additional funds from the Overture Foundation and Pleasant T. Rowland Foundation, UW-Madison Division of International Studies, Evjue Foundation, Hillel and I.C.E. (Israel Cultural Experience), M&I Bank, Madison Folk Dance Club, Multicultural Council, UW-Madison School of Music, Wisconsin Folk Arts Association, Wisconsin Distributors, and Wisconsin Union Directorate. Media sponsors for the festival include: "Higher Ground" with Jonathan Overby, WORT-89.9 FM Community Radio, and WSUM Student Radio.
More information is available at www.union.wisc.edu/worldmusic/index.html.
Author:
World Music Central News Department
World music news from the editors at World Music Central