Kenge Kenge – Introducing Kenge Kenge (World Music Network INTRO107CD, 2007)
Spotlight on Kenyan Music (ARC Music EUCD 2030, 2006)
My appetite for Kenyan music was whetted by 2004's The Rough Guide to the Music of Kenya (World Music Network) and these two releases provide satiation on differing levels.
Kenge Kenge (their name means something like "fusion of small, exhilarating instruments," which has got to be one of the coolest translations ever) explore the origins of benga, a style popular in Kenya the way rumba is in Congo or highlife is in Nigeria.
In its contemporary state, benga is centered around entwined guitars, bass and pulsating dance beats. Kenge Kenge take it back to its roots, which lie in the traditional music of Kenya's Luo people. Guitars and bass are absent, replaced in back-to-basics fashion by orutu (single-stringed fiddle), flute, horns unencumbered by reeds or valves, relentless drumming and call-and-response vocals that often sound like urgent messages sent across wide open spaces through sheer lung power.
The overall effect (despite obvious modern production) is not unlike some mid-20th century field recording that Alan Lomax might have done for Smithsonian Folkways, and therein lies its appeal. It's raw, soaring, delightfully infectious and, yes, exhilarating. There's no discernible commercial pretensions here, obvious from the largely unpolished nature of the music itself and the fact that the shortest track runs over seven minutes. Lovers of traditional African sounds, take note. This one's for you. I considered it a keeper after the first song. <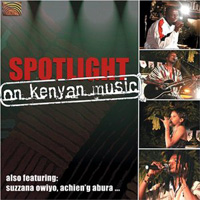 Spotlight on Kenyan Music[/caption]A far more modern approach is taken by the various-artist collection Spotlight on Kenyan Music. The title refers to a program initiated by the Kenyan government to nurture emerging talent and boost the music industry in general, and the results are impressive. Mostly new to me, the singers and players involved dig into acoustic ballads with light grooves, lively dance music, tunes energized with broader Afropop sensibilities and more.
A few songs are undermined by canned rhythms, but the vocal performances consistently shine. There's more than 75 minutes of fine music here, winding up with "Wakati ni Sasa," on which a small army of voices urge Africa toward a brighter future. Let's hope we'll be hearing more from such artists as Lwanda Magere, George Mutinda, Hannah Wakesho and the rest here. Their time in the spotlight is well deserved.
Buy Introducing Kenge Kenge and Spotlight on Kenyan Music.
Author:
Tom Orr
Tom Orr is a California-based writer whose talent and mental stability are of an equally questionable nature. His hobbies include ignoring trends, striking dramatic poses in front of his ever-tolerant wife and watching helplessly as his kids surpass him in all desirable traits.