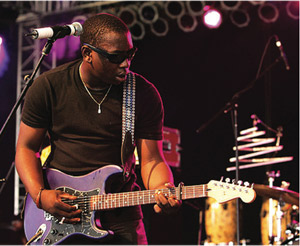 Review by: Terry O'
I saw Vieux Farka Touré last night in Chicago at the Jay Pritzker Pavilion in Millennium Park. He opened for Toumani Diabate and was a complete surprise. I expected the melancholic and sparse bluesy African music his father, Ali Farka Toure , made famous. His eponymous debut CD owes much to his father and centers on that sound.Vieux has his father's deep connection to music but, at least in concert, he's going his own way. Vieux's music is high energy and danceable.
His father played Malian blues akin to Robert Johnson and Lightnin' Hopkins, often just a stark guitar, minimal percussion and vocals. Vieux play thick, powerful African blues arising from a full band like John Mayall's Bluebreakers or Cream.
An unexpected highlight of Vieux's band was Mama Sissoko on backing guitar. Limping on stage with a strange trombone-like crutch, Mama sat down and proceeded to swirl gorgeous acoustic licks in and around Vieux's snarling electric guitar lines. If you haven't heard Mama Sissoko, his CD Soleil de Minuit (Tinder) is wonderful.
Author:
World Music Central News Department
World music news from the editors at World Music Central