Bebel Gilberto – Momento (Ziriguiboom/Six Degrees 657036 1133-2, 2007)
CeU – CéU (Urban Jungle Records/Six Degrees 657036 1129-2, 2006)
No one needs to bring sexy back to Brazilian music because it never left. Brazilian music was sexy even before the Girl From You-Know-Where went walking. Another constant has been African-rooted rhythms, even in the face of all the techno and electronic coloring applied to the sounds coming out of Brazil today. Combine the best of classic and contemporary elements and make it sound natural and, yes, sexy, and you've got Brazilian music that will grab seasoned Jobim-heads and young clubbers alike.
These two discs are by Brazilian women easy on the eyes and ears who also know how to make great songs out of mixing the old and the new. Prepare to be grabbed.
Momento is the third release by Bebel Gilberto, daughter of the legendary Joao Gilberto and niece of the no-slouch-either Chico Buarque. Her 2000 debut Tanto Tempo was a pleasantly chilled electro-bossa affair while her self-titled 2004 release was a notably better one that combined a similar overall approach with a more acoustic, organic sound.
Momento has it both ways, lounging luxuriantly in airy tracks like the title song and the Big Apple tribute "Os Novos Yorkinos" and stretching out on such earthier grooves as "Cacada" and the tropical big-band sound of "Tranquilo." Vocally, Gilberto sports a warm, breezy style that's well suited to a few sidesteps into English, including a lovingly rendered cover of Cole Porter's "Night and Day." She sings like she's equally at home in the lounge or on the world stage, making Momento's mix of programmed bliss and hands-on beauty a pure pleasure.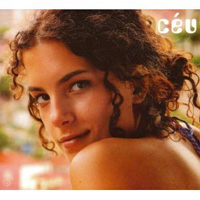 From the vast metropolis of Sao Paulo comes CéU (pronounced say-ew), whose debut CD, CéU, is likewise ultra-modern at times but doesn't forget to have a human heart beating at its center. That heart pulses with samba, reggae, funk and soul created by programmed electronic nudges, turntable scratches and, most importantly, real guitar, bass, keyboards, percussion and horns.
CéU has a whispery, enticing voice that purrs sweetly but also has a bit of foreboding to it, as though she has cautionary messages to impart and not just a sultry image to uphold. An almost complete rearranging of Bob Marley and the Wailers' "Concrete Jungle" is mildly startling in its reserved intensity, and CéU proves well able to inject pangs of longing or playfulness into such songs as"Veu da Noite," "Ave Cruz" and the swaggering opener "Lenda" by knowing when to hold back and when to cut loose. The production often echoes- literally -her captivating vocal phrasing, which owes as much to jazz and blues as classic Brazilian styles. Great singer, great songs, a sizzling first album.
Author:
Tom Orr
Tom Orr is a California-based writer whose talent and mental stability are of an equally questionable nature. His hobbies include ignoring trends, striking dramatic poses in front of his ever-tolerant wife and watching helplessly as his kids surpass him in all desirable traits.