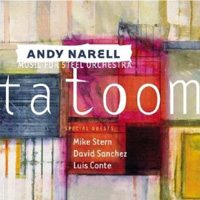 Andy Narell
Tatoom (Heads Up International HUCD 3122, 2007)
"Music For Steel Orchestra" states the cover of this CD. What's not apparent until you read the credits is that, apart from a few helpers, the "orchestra" is actually Andy Narell, arguably the greatest player of the steel pan (or steel drum, if you prefer that misnomerish term) on the planet.
There are 22 steel pans of five different sizes heard on Tantoom, and a painstakingly overdubbed Narell plays 'em all. In lesser hands such an idea could be a self-indulgent mess. But Narell is a master, and whether he's playing one pan or a bazillion, the nuances he's become known for in making the pan a true jazz instrument shine through.
Through his own albums and work with such crack outfits as the Caribbean Jazz Project and Sakesho, Narell has developed a quietly dazzling style. Utilizing a jazz sense of phrasing and timing alongside a (no pun intended) pan-Caribbean and wider global musical awareness, he's now made what may well be his best album yet. These are not quaint little island ditties for rum-sipping tourists, but six lengthy tracks (only one is under 10 minutes) in which Narell's pans go from gliding as if on water to bursting forth in pure melodic, metallic joy.
Joined by Luis Conte on Latin percussion, Mark Walker and Jean Philippe Fanfant splitting drumset duties, Mike Stern laying down guitar on two tracks and David Sanchez playing sax on one, the steel feel shimmers on all sides as the rougher drum and percussion sounds keep things from getting too frothy.
This is music that's dreamy but jamming, down to earth but flying high. Marvelous from start to finish.
Buy Tatoom.
Author:
Tom Orr
Tom Orr is a California-based writer whose talent and mental stability are of an equally questionable nature. His hobbies include ignoring trends, striking dramatic poses in front of his ever-tolerant wife and watching helplessly as his kids surpass him in all desirable traits.