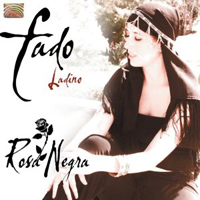 RosaNegra
Fado Ladino (ARC Music EUCD 2046, 2007)
It's really only the singing on this disc that conjures up the blue moods of Portuguese fado music. RosaNegra vocalist Carmo has the same emotion-drenched tones as great fadistas past and present, exquisitely bending and shaping these songs of love, pain and destiny.
As far as instrumentation goes, fado purists might be disappointed at the absence of Portuguese guitars or any other kind. Instead there's piano, accordion, violins, trumpet and Arabic percussion creating a lushness that bespeaks the lasting Moorish influence on Iberian music as well as tempering fado's characteristic sadness with a cabaret-like swing suggestive of music from both the European and North African sides of the Mediterranean.
Lively but exceptionally heartfelt as well, RosaNegra (whom the liner notes label a novo fado "project" as opposed to, I guess, a band) smartly blend sweet vocals with tart rhythms to create a captivating sound that gets you deep down inside and gets your blood pumping too.
The slow, relatively unadorned closing track "O Teu Jeito De Me Amar" comes closest to traditional fado, but the journey up to and including that point is brimming with beauty. Recommended.
Buy Fado Ladino.
Author:
Tom Orr
Tom Orr is a California-based writer whose talent and mental stability are of an equally questionable nature. His hobbies include ignoring trends, striking dramatic poses in front of his ever-tolerant wife and watching helplessly as his kids surpass him in all desirable traits.