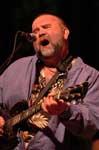 Glasgow, Scotland – As Celtic Connections enters into the final week, the Classic Albums strand is completed with a special performance of a seminal 1973 album, a young
singer-songwriter currently causing a stir at Radio 1 plays the ABC and a Hamish
Henderson tribute album is brought to fruition on stage.
Celtic Connections takes place in 12 venues all over Glasgow. The focal point of the festival is The Glasgow Royal Concert Hall, where performances take place in every available space, from workshops in the foyers to performances by world-class artists in the Main Auditorium. The City Halls and Old Fruitmarket, ABC, The Tron, The Piping Centre and Glasgow's newest live venue The Classic Grand will all play host to Celtic Connections events this year over a period of nineteen days in January and February.
Program
Celtic Connections School Concert
Martin Green Machine with Genticorum
Mon 29 January, 11:00am
Free but Ticketed
The Glasgow Royal Concert Hall, Main Auditorium
The schools concerts resume this week with the Martin Green Machine. Martin Green introduced his new nine-piece band, the Green Machine, at last year's Celtic Connections, in an unforgettable performance as part of the New Voices series, when the band played his First Sighting commission.
The Green Machine brings together some of the most prestigious folk and jazz musical talent from England and Scotland to play a selection of Martin Green's original compositions. The band utilises an impressive line-up of instruments which includes accordion, keyboards, brass, guitar, bass, drums, sampler and vocals.
Iain Anderson In Conversation with Billy Kay
Mon 29 January, 12:30pm
£3.50
Exhibition Hall
Celtic Music Radio
Mon 29 January, 2:00pm
Free
The Glasgow Royal Concert Hall Exhibition Hall
Danny Kyle's Open Stage hosted by Gibb Todd
Mon 29 January, 5:00pm
Free
The Glasgow Royal Concert Hall, Exhibition Hall
Classic Albums: John Martyn Solid Air with Dan Arborise
Mon 29 January, 7:30pm
£24, £20, £18
The Glasgow Royal Concert Hall, Main Auditorium
Following an unforgettable live performance of his seminal 1973 album Solid Air for a sell out audience at the Barbican Centre in London, John Martyn has decided to take this acclaimed show on the road for a very special UK tour. This concert is the third in the Celtic Connections Classic Albums strand, which has already seen Dick Gaughan play Handful of Earth and Angus Lyon and Ruaridh Campbell play 18 Months Later.
Widely interpreted as a tribute to his friend Nick Drake, Solid Air is a highly personal yet timelessly atmospheric masterpiece that marks Martyn's transition from the acoustic, folk-based sounds of his early work into more experimental territory.
Featuring an innovative blend of rock and jazz influences, while deploying Martyn's voice as much for its sonic textures as to carry the lyrics, it has long been a regular fixture on lists of all-time great recordings.
A' the Bairns O' Adam
Mon 29 January, 8:00pm
£12.50
St Andrew's in the Square
This concert is based on the 2003 album A' The Bairns O Adam: A Tribute to Hamish Henderson. A great poet and songwriter of the 20th Century, Hamish Henderson's songs, like Freedom Come All Ye and Rivonia, were sung by freedom fighters and recognised by Nelson Mandela, Bob Dylan, Pete Seeger and many others.
Hamish died in Edinburgh on 8th March 2002, but at the celebration of Hamish's life (which followed one of the largest Edinburgh funerals in recent times), the idea of a tribute album was already being suggested. The finished album consists mainly of Hamish's songs and poems and is accompanied by extensive sleeve notes and song lyrics.
Most of the tracks were recorded specially for this album by artists who were personal friends of Hamish, or greatly admired his work. This concert will feature performances by Steve Byrne (Malinky), John Morran (Deaf Shepherd), Wendy Weatherby, Angus Lyon (Lyon-Campbell Duo) and Marc Duff (ex Capercaillie), with commentary by Dr Fred Freeman.

Celtic Procession with Genticorum
Mon 29 January, 8:00pm
£12.50
The Glasgow Royal Concert Hall, Strathclyde Suite
Ceolraidh: Jarlath Henderson with Paddy Keenan and Rachel Newton with Corrina Hewat
Mon 29 January, 8:00pm
£10
The National Piping Centre
Celtic Connections is strongly committed to fostering and showcasing fresh talent. A modern day revival of a time honored tradition, Ceolraidh (meaning inspiration in Gaelic – from a series of concerts created by Feis Rois) encourages knowledge and artistry to be shared between a seasoned expert and gifted youngster.
Uilleann piper Jarlath Henderson, the 2003 BBC Young Folk Award winner, takes the stage with ex-Bothy Band legend Paddy Keenan, while Edinburgh harper Rachel Newton features alongside Unusual Suspects co-founder Corrina Hewat.
Scott Matthews with Support
Mon 29 January, 8:00pm
£10.50 plus booking fee
ABC
Songs & Music of Scotland:
Lewis, Hosted by Ishbel MacAskill
Mon 29 January, 8:00pm
£8.50
Universal
In a series of 10 concerts at the Universal Folk Club, well-known performers from various regional areas of Scotland explore the songs and music of their home towns and areas.
Tonight the festival celebrates the musical heritage of Lewis, with performances from
singer Iain MacKay, Gaelic singer Murdigan MacDonald and singer/songwriter/actress Anna Murray.
Celtic Connections Festival Club hosted by Gibb Todd
Mon 29 January, 10:30pm
£3.50
Holiday Inn – City West
Tickets can be purchased from the Box Office:
In person at: The Glasgow Royal Concert Hall
2 Sauchiehall Street
GLASGOW
G2 3NY
Online at: www.celticconnections.com
By phone on: 0141 353 8000
Author:
World Music Central News Department
World music news from the editors at World Music Central