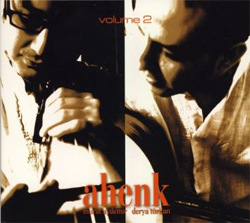 Golden Horn announced its newest release by Ahenk Duo, a musical union of Derya Türkan (kemence -three stringed fiddle) and Murat Aydemir (tanbur – long-necked lute).
On this their second album, Ahenk Duo performs works by Tanburi Osman Bey, Tanburi Cemil Bey, Tanburi Refik Fersan, Dede Efendi, Neyzen Salih Dede among others. The album's program also features solo and joint improvisations.
The music presented ranges works from 17th through 20th centuries in makams Arazbar, Ussak, Sedd-i Araban, Mahur and Pesendide. The Duo performs these pieces and improvisations masterfully in this second part of their journey of Turkish and Ottoman classical music.
Back in 1997, Golden Horn produced very first recording of two friends; Derya Derya Türkan and Murat Aydemir Aydemir. The album was titled Ahenk which means "harmony" in Turkish. This title reflected these two musicians' friendship as well as their style and performance of Turkish & Ottoman classical music. At that time, Derya and Murat Aydemir were in their early twenties. They already had many years of performance experience in prestigious ensembles. Both of them had very sound training in their style of music. They were students of the leading players of Turkish classical music and showed a lot of promise for the future.
Over the years, the first album's title gave the duo it is name: "Ahenk Duo". Both musicians perform in other groups, sometimes together, sometimes separately and have their own individual ways of musicianship and musical interests. When they get together to play, as very capable extensions and performers of music that reaches back centuries, they perform on tanbur and kemence, in a style that has become seldom displayed.
This new recording continues where the first album left. Over the years, both musicians lived up to expectations and they are now considered to be leading performers of their respective instruments. Derya recorded other albums; including Letter from Istanbul and Murat Aydemir recorded other albums as well, including Neva; both on Golden Horn.
The Initial volume of Ahenk, over the years, became a reference album for many; not only for those individuals who were getting their first introduction to this tradition, but also for those who had immersed themselves in this music already.
Both albums contain compositions from various periods of classical music as well as taksims (improvisations) performed solo and jointly. This joint improvisation style is a development that Murat Aydemir and Derya have inherited from their teachers, Ihsan Özgen and Necdet Yasar, and continue to perform. Murat Aydemir also demonstrates this style on another duo recording, this time with the ney player Salih Bilgin on the Neva album.
"Ahenk Volume 2" was recorded in Istanbul in Aria Studios which is located in Üsküdar district. From the balcony of this studio, one can view ships and boats sail through the Bosphorus with the reminders of city's past in the background; a beautiful location to record an album like this.
Cengiz Onural, a member of Incesaz — another group in which Murat Aydemir and Derya perform — was the recording engineer. In a recording like this, it was crucial to work with an engineer who is intimately familiar with the artists, instruments and music.
Buy Ahenk, Volume 2.
Author:
World Music Central News Department
World music news from the editors at World Music Central