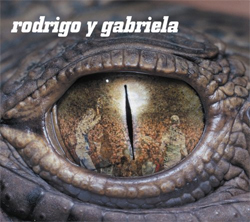 Ireland – Rodrigo y Gabriela is a Mexican guitar duo that has had tremendous success in Ireland with their self titled album, Rodrigo y Gabriela (ATO Records). Rodrigo and Gabriela are two lifelong heavy metal fanatics who uprooted themselves from the massive heavy metal scene of Mexico City and took off to Ireland.
A few years later, living in Dublin, Ireland, and playing Latin-influenced acoustic guitars that come on with the rush of a full rock band, drum kit and all, Rodrigo and Gabriela beat both the Arctic Monkeys and Johnny Cash to number one in the Irish charts. Gabriela's hands create rhythms using every inch of her guitar. Rodrigo takes the melody, weaving in and around Gabriela, beautifully in sync.
In their own words: "It's mainly got Latin harmonies and rhythms but the structure is rock. It's not jazz because it's structured, and we don't improvise; our solos are exactly what's on the record, as metal fans and guitarists you always want to hear the same f**king solo!"
Encompassing everything from family salsa records to Gabriela's aunt's Pink Floyd, Black Sabbath, Queen, and Led Zeppelin vinyl, this record is hard to define in the best of ways.
Producer John Leckie (Radiohead, Muse, My Morning Jacket) arrived on the scene via a demo sent to him by their Irish record label, and he called the very next day. The three agreed to record 'live', and Rodrigo and Gabriela were placed in the same room in a studio in Bath, England, to perform as if on stage: "We played each track over and over, and only 'Orion' has overdubs." From the many, many live versions, Leckie chose 'the one.'
Buy Rodrigo y Gabriela.
Author:
World Music Central News Department
World music news from the editors at World Music Central