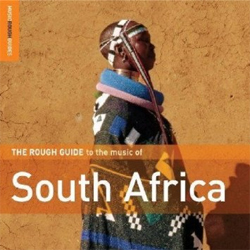 Three years after the original bestselling edition of The Rough Guide To The Music Of South Africa (which sold over 40,000 CDs) was deleted, a successor has finally arrived.
South Africa has an extremely varied and energetic music industry with lots of big name artists featured here alongside a number of exceptional but lesser known talents and covering an extraordinary variety of forms: bubblegum, Kwaito, maskanda, Zulu a cappella, township jive and pennywhistle jive (kwela) to name but a few.
Amongst the most popular of the artists on the Rough Guide to the Music of South Africa (RGNET1178CD) is the seminal and Grammy-award winning Ladysmith Black Mambazo, whose mastery of the Zulu a cappella (iscathamiya) style has made them a massive worldwide success. Also featured is the legendary Miriam Makeba, otherwise known as 'Mama Africa' with a classic pennywhistle jive (kwela) number from her golden era.
South African Pop – known as bubblegum is showcased with two giants of the genre Chicco and Yvonne Chaka Chaka, whose track 'UmQombothi' is an upbeat party song celebrating African sorghum beer. Lucky Dube's 1990s albums, Slave and Prisoner were the country's top sellers for that decade, demonstrating the popularity of home grown reggae. He is represented here by the track, 'Crying Games' and also more surprisingly on the fun fuelled synth pop 'Waar's My Pyp' by his Afrikaans/Zulu alter-ego, Oom Hansie.
Mbaqanga and township jive are important indigenous styles based on low male vocals with contrasting female harmonizing. This is sometimes accompanied with electric instrumentation, as heard on the wonderfully catchy opener to the CD, Busi Mhlongo's 'Yehlisan'Umoya Ma-Afrika'.
Mahlathini & Mahotella Queens demonstrate the huge influence of the townships' style on South African music and the growing appeal of mbaqanga worldwide while the Soul Brothers have integrated the style into their own soulful organ-led sound.
Mtabhane Ndima's track 'Thandabantu' gives a glimpse of the 1950s accordion jive style. This originated in the township of Alexandra and spread quickly through South Africa before the development of kwaito. The Soweto String Quartet have also appropriated elements of township music, however in their case they have combined it with classical, jazz and pop influences. Their worldwide following reflects their unique status in African and global music.
They are the only string quartet which plays indigenous African music and their contribution, 'St Agnes and the Burning Train', is truly innovative and utterly charming. Also on the album is Solomon Linda's Original Evening Birds version of 'Mbube'. Recorded in 1939 it sold 1 million copies by 1945 and made the jump to America and became one of the most recognizable melodies on the planet.
This album contains a data track that includes an interview with the compiler Phil Stanton and travel information from The Rough Guide To South Africa book.
Buy the CD:
Author:
World Music Central News Department
World music news from the editors at World Music Central