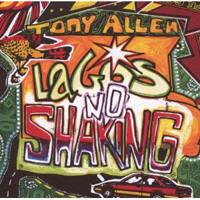 Tony Allen
Lagos No Shaking (Honest Jon's Records HJRCD20, 2006)
Tony Allen, Africa's finest drumset player and right hand man to Fela Kuti in the legendary Afrika 70 band, is back to doing the classic Afrobeat he does best. After opting for a more minimalist, hip-hoppy approach the last few years, Allen's Lagos No Shaking is deep, layered Afrobeat with his slip-and-slide drumming sturdily leading a charge of slinky guitars, bass, keys, horns, percussion and vocals that cut deep with parabolic urgency.
Despite the core characteristics, though, this is different from the stuff Fela pioneered. The songs are fairly short (only two top six minutes) and a pair of tracks are more concerned with bringing forth the traditional African rhythms that were as much a part of Afrobeat as the James Brown-influenced funk and subversive swagger that came to be defining moments.
So while the disc begins with and largely retains a welcomed familiar glow, it ends with a percussion-heavy groove that upholds the roots in a manner not unlike Nigerian apala music. Thus what we have here is an Afrobeat album that's the best of all worlds: the beats that formed the foundation, the intricacies that gave the style added might and the full-circle return to a sound that dances away any perceived conflict between vintage and contemporary.
Don't even think about passing this CD by.
Buy Lagos No Shaking
Author:
Tom Orr
Tom Orr is a California-based writer whose talent and mental stability are of an equally questionable nature. His hobbies include ignoring trends, striking dramatic poses in front of his ever-tolerant wife and watching helplessly as his kids surpass him in all desirable traits.