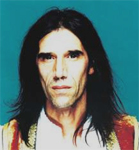 Andrea Parodi, one of the best known singers in Sardinia died Wednesday, October 18 after a strong battle with cancer.
Very popular in Italy because of his work with Tazenda, the first Sardinian pop band to hit the charts in Italy; in the last ten years he followed a solo career, more world music-oriented, which led him to work, among others, with Noa, Al di Meola, Fabrizio de André and many others.
Parodi knew about his illness exactly one year ago, but kept on singing and performing until three weeks before his death.
Andrea Parodi was born in Porto Torres (North Sardinia) in 1955. He learned how to play the bugle at 11, playing with the city municipal band. He joined Sole Nero in later Coro degli Angeli.
He discovered jazz in 1980 and began performing the professionallly in 1982. Parodi graduated in 1984 at the Conservatory of Cagliari. With Gino Marielli and Gigi Camedda he founded Tazenda in 1988.
He recorded the following albums with Tazenda:
1988 Tazenda
1991 Murales
1992 Limba
1993 Il popolo rock (Live album)
1995 Fortza paris
1997 Il sole di Tazenda (Compilation)
2005 Reunion (Live)
Solo recordings:
2002 Abacada
2004 Andrea Parodi
2005 Midsummer night in Sardinia (with Al di Meola)
2006 Intimi Raccolti
Author:
World Music Central News Department
World music news from the editors at World Music Central