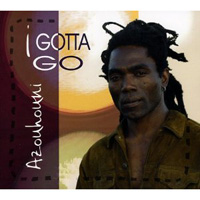 Azouhouni
I Gotta Go (Zohore Records ZR0405, 2005)
An exceptionally good melding of jazz and African rhythms here. Azouhouni Adou, a native of Ivory Coast now based in New York City, is primarily a pianist and singer though he also does a bit of bass and clarinet on this disc. He and his highly skilled accompanying players stretch out easily but tightly on pieces that at first suggest a sparser version of Fela Kuti-style Afrobeat before twisting and turning their way into smart solos, bluesy passages and grooves that shout out to the African roots of jazz instead of glossing over them.
The equal footing of drumset and bass with African and Latin percussion propels Azouhouni's keys and scatty vocals, forming such a sweetly right-sounding foundation that the horns which often stab or flow in and out come across like an added delight from another dimension.
Whether the songs dance on dangling, jagged rhythms, burst out in full-force funk or take on the relaxed intensity of Western jazz, each scores big. Okay by me if Azouhouni's gotta go, so long as he knows he's welcome in my house any time.
Buy I Gotta Go.
Author:
Tom Orr
Tom Orr is a California-based writer whose talent and mental stability are of an equally questionable nature. His hobbies include ignoring trends, striking dramatic poses in front of his ever-tolerant wife and watching helplessly as his kids surpass him in all desirable traits.