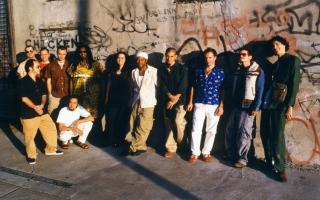 When National Geographic stepped into the digital music realm earlier this year, WorldMusic.NationalGeographic.com Editor Tom Pryor made a conscious effort to highlight world music in its many forms, from folkloric to electronic, from field recordings to hip hop. Now National Geographic pushes the envelope even further by curating GeoRemix, an exclusive 13-track project of never-before-available remixes by some of the planet's most progressive world music acts.
Featured GeoRemix tracks include a just-produced, collaboration between New York's Afrobeat funksters Antibalas and DJ Rich Medina, who puts away his turntables and steps onto the soapbox to talk about the state of the world on "Ja Joosh/My Country."Tabla-playing producer Karsh Kale offers up the Kaushik Ambient Remix of "Manifest." Originally a techno merengue by Diviana, "Yo No Se" has now been transformed into a super-smooth house track by Venezuela's Los Amigos Invisibles and DJ Afro's remix.
"There is a generation of wired musicians who are combining technology and tradition to create new music and whose world view reflects their experience as immigrants, globe-hoppers and urban-dwellers," said Pryor. "These artists are composing an alternative soundtrack to globalization. National Geographic has always used stories to inspire people to care about the planet; now we have the soundtrack to go with it."
The GeoRemix project is one of many tech-savvy and street-smart facets of WorldMusic.NationalGeographic.com, which also features hundreds of world music videos, podcasts, audio samples, photographs and in-depth editorial content about global recording artists and more than 100 music genres. The site is designed for exploration.
"While the planet is shrinking, our musical palette is expanding in ways unimagined 10 years ago," said David Beal, internationally known musician, composer and former executive at Palm Pictures, who has been working on the National Geographic music initiative for the past year. "The music, whether it is from ancient traditions or unexpected hybrids, inspires us to think about our place in the world and the cultures of people who may be our neighbors."
GeoRemix selections highlight this widening palette of hybrids by including reinvented flamenco collective Ojos de Brujo. Nitin Sawhney remixed their unreleased "Feedback," whose original mix will appear on Ojos' North American release due out next year.
Ska Cubano's culture crossing continues with The Sea's remix of "No Me Desesperes" ("Don't Drive Me Crazy"), one of their gigantic ska cumbias — huge and melodramatic, with a massive rhythm section and honking, screaming brass.
Austin's Charanga Cakewalk keeps it real with their own remix of "Ballad de Jose Campos Torres," referring to the 1976 incident in which Houston police beat and drowned a young Mexican. The officers were charged, fined one dollar and put on probation.
The GeoRemix roster is rounded out with otherwise-unavailable remixed tracks of Yerba Buena, Bombay Dub Orchestra, eccodek, Ex-Centric Sound System, Nortec Collective and Smadj. All 13 tracks are available for sale only from WorldMusic.NationalGeographic.com through the end of October.
"Our hope is to engage fans using the musical language of some of the planet's most thought-provoking artists," said Pryor. "With the GeoRemix project, you will hear electronic remixes, hip hop versions, and unprecedented cultural hybrids that help to tell the story of our musical planet."
Author:
World Music Central News Department
World music news from the editors at World Music Central